By Dominic Lalk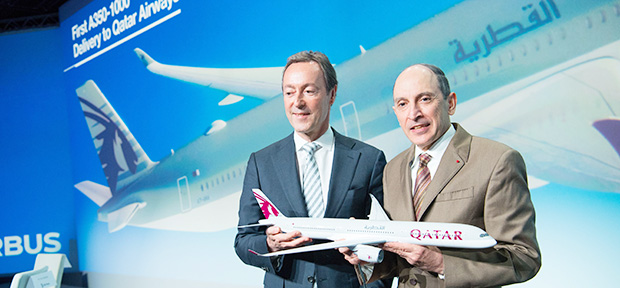 Airbus and Qatar Airways wrote history on Tuesday when the first A350-1000 was officially handed over to the Qatari national carrier during an elaborate ceremony in Toulouse. The delivery of the aircraft also marked the last day for Fabrice Brégier as Airbus Commercial Aircraft president and COO. Separately, Philippine Airlines has said it was evaluating an order for the largest A350XWB variant.
In the interim, Pratt & Whitney's deficient GTFs continue causing significant delays to A320neo deliveries. HK Express and S7 Airlines are expecting substantial operational disruptions as a result.
In other news, SIA Group has posted a healthy US$530 million profit for the first nine months; Lucky Air will soon take delivery of two additional A330-300s; HNA Group has sold down its shareholding in Tianjin Airlines; and CFM International has named Sébastien Imbourg its new executive vice president.
Airbus delivers maiden A350-1000 and bids farewell to Brégier Read More »