Asiana's Airbus re-fleeting lowers aircraft age
Incremental long-haul growth as Asiana diversifies from over-competitive short-haul markets. Read More »
Asiana in 2019 is continuing its re-fleeting programme with the delivery of its first two A321neos and four more A350-900s. The A321neos will be used on routes to China while the additional A350s will be deployed to China, Southeast Asia and long-haul markets.
Asiana wants to grow Istanbul from four weekly to six weekly. Seoul has yet to allocate two additional weekly Paris traffic rights, but Asiana hopes to receive them to grow its Paris service from five weekly to daily. These would be gradual steps to re-position Asiana, which is strategically criticised for being over-weight on competitive short-haul flights and too small on long-haul markets.
The A321neo and A350s additions, and the retirement of one passenger 747 and one passenger 767, will see Asiana's average fleet age reduce from 9.8 to 8.6 years. Asiana's average passenger fleet age is weighed heavily by its current two 747-400s (22 years old) and six 767s (also 22 years old). The bulk of its fleet is about 10 years old or higher. Its A320s average 12 years, 777-200s 11 years and A330s 10 years. Next-generation aircraft comprised 9% of Asiana's fleet in 2018 but the share is projected to be 49% in 2023. Asiana defines next-gen as the A321neo and A350.
Asiana has 22 A350s on order, but they are expected to largely replace the existing fleet. For more substantial growth, there will need to be further aircraft orders. This is dependent on Asiana's financial position, which historically has not been strong. Its debt ratio reached 991% in 2015 but declined to 701% in 2018.
The peak high debt period saw concern about Asiana's future, but Asiana parent Kumho made difficult positions selling units in order to generate cash. This also helped reduce management distractions by narrowing the focus of the chaebol, which like peers was expansive. Kumho Asiana Group chairman, Park Sam-koo, is said to be devoted to Asiana more than any other business unit.
In 2019, Asiana expects to grow seasonal and year-round A350 routes from eight to 13. Freight will grow from increased belly capacity. Asiana's strategic initiatives for the year are incremental rather than revolutionary. It wants to improve premium load factors, upgrade first class offers and grow website sales from 13% of passenger revenue to 15%.
Asiana's 4Q2018 saw few changes in metrics. This performance was weak compared to Korean Air's strong end to 2018 that saw a one-point increase in load factor and 5% increase in yield. This was driven by Korean's joint-venture with Delta Air Lines. Some have expected it to be a matter of time until Asiana and United Airlines increase cooperation. This would help Asiana in a major market, but Asiana must still change itself.
Asiana Airlines passenger fleet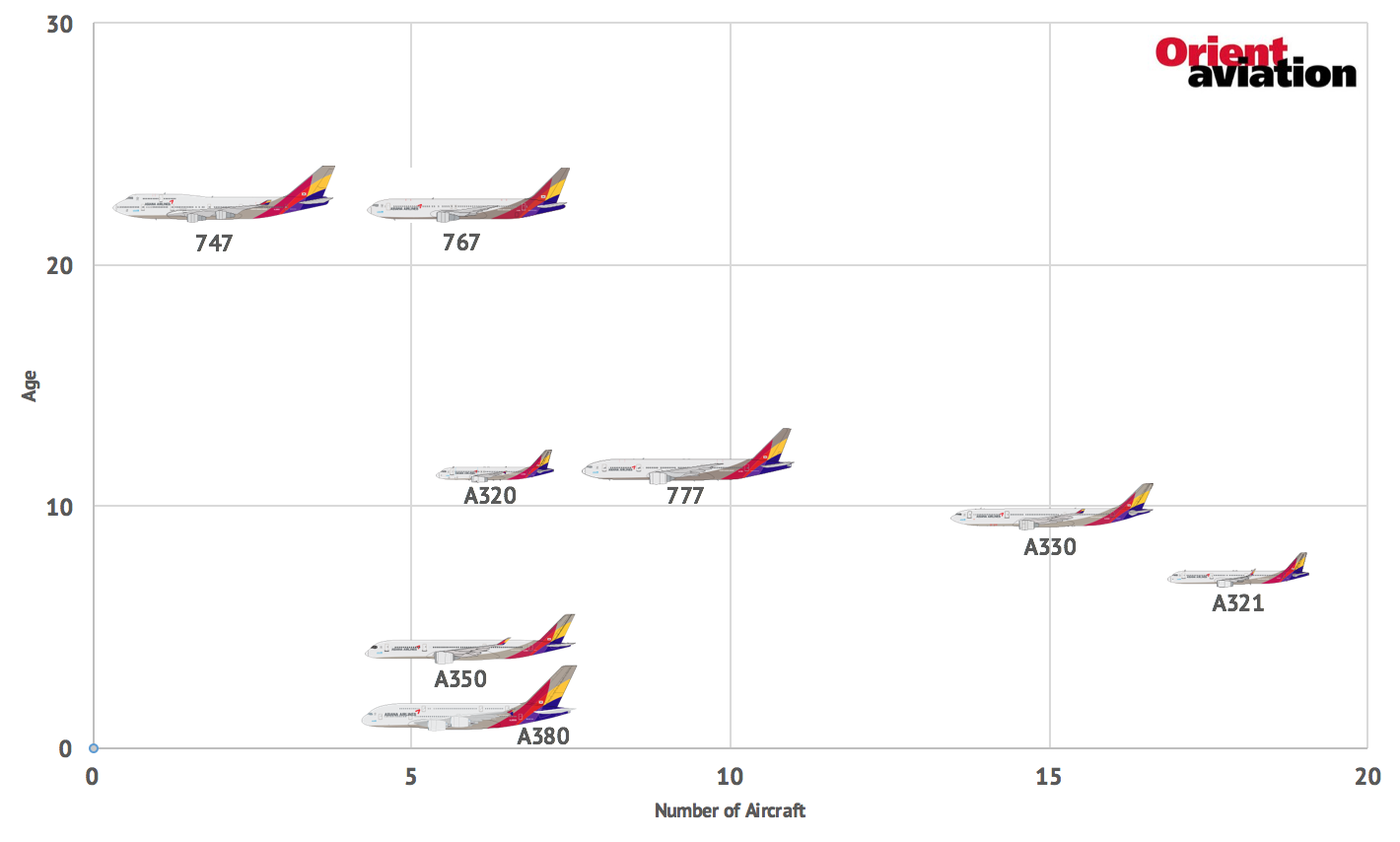 Source: Orient Aviation