Cashed up to cope with the COVID-19 fallout
With airline fleets worldwide grounded and around 50% of them leased, global aircraft lessors are dealing with customers fast running out of cash. BOC Aviation CEO and managing director, Robert Martin, explained the Singapore-headquartered lessor's strategy for handling the COVID-19 crisis to associate editor and chief correspondent, Tom Ballantyne.
With aircraft leased to 93 airlines in 41 countries worldwide you could be forgiven for believing the COVID-19 crisis is hitting Singapore-based BOC Aviation as hard as its cash-strapped airline customers. Read More »
But the managing director and CEO of the Bank of the China-owned lessor, Robert Martin, made it plain to Orient Aviation last month the company was cashed up and well prepared to deal with a forecast downturn.
About 75% of BOC Aviation's customers have been asking for support in various ways, Martin said, but it was far from a universal situation. "For example, the Chinese carriers have not had a liquidity problem during this crisis," he said.
"Why? Because the Chinese domestic bond market has been incredibly active for them. Mainland airlines have raised more than US$6 billion in bond funding in China's local bond market. China Eastern [Airlines] received about $3 billion. China Southern [Airlines] has done about half that. Air China has tapped it.
"Even carriers like Spring Airlines, Juneyao Airlines, Xiamen Airlines and Sichuan Airlines have tapped it, so it's not just the State carriers. A lot of people around the world have missed this completely. They don't realise China is different on this occasion because of the liquidity in that domestic bond market, which is basically Renminbi financing."
Elsewhere, Martin said, the approach to customer support is two-pronged. "Firstly, we are in this for the long-term. We have to remember we are a long-term partner for our airline customers. So we need to support them through difficult times," he said.
"Commencing from February, when we could see this coronavirus was coming through Asia, we proactively went to a number of airlines in Asia and other parts of the world and said; 'look, show us your list of unencumbered assets. We will start doing purchase and leasebacks with you'.
"So far, we have committed an extra $5 billion of capital to the markets supporting sale and leasebacks all over the world during the coronavirus period. The very first deal was here in the Asia-Pacific where we did six 777s for Cathay Pacific. It feels like a long time ago, but it was only two months ago."
For other carriers – BOC Aviation has a fleet of 316 owned and 40 managed aircraft with another 205 on order – some deferrals have been granted, generally allowing airlines to pay 50% of the rental due for three months.
"That's our standard deferral and then they pay it back in the second half of this year. We charge them interest obviously for the deferral," he said.
The lessor puts airlines into three different categories when it comes to surviving the crisis. "The first type is those owned by governments or who are benefitting from solid government support. Within that category I would include Singapore Airlines, the Chinese carriers and the big U.S. carriers the American government has supported. Those guys are going to come through relatively stronger than other carriers," Martin said.
The second group are well run airlines that have been paying cash for aircraft during the high part of the cycle and have unencumbered aircraft on their balance sheets.
"They are executing leasebacks with people like us to raise liquidity. They are the people who have moved very quickly with furloughing staff, dealing rapidly with as much of their cost base as they could as we went into this downturn."
The third group worries Martin. "They are those newer carriers, set up since the Global Financial Crisis and September 11 (the September 2001 U.S. terror attacks). They have not been through a real revenue crisis. Frankly, we do not see them taking steps to proactively deal with the problem," said Martin.
They are mainly low-cost carriers or airlines that are entrepreneur-led, Martin said. "Why are they different? Number one, they have done sale and leasebacks on most of their fleets so there are no unencumbered assets to raise new financing," he said.
"Secondly, they don't have a sovereign shareholder and the entrepreneurs, so far, have been unwilling to put in new capital." In the end, Martin acknowledges there will be "one or two" customers who won't make it through.
"We need to prepare for remarketing those aircraft, which we have been doing. Our marketing and technical teams are preparing to move the aircraft where we have to," he said.
"I think we are on the way for consolidation. Consolidation happens in two ways. One is by carriers merging. For example, we have seen discussions going on in Malaysia with the government and the three carriers there. Whether it will happen or not, who knows?
"We also will see a number of weaker airlines fail. You have to remember there are more than 800 airlines around the world and more than 400 of them operate less than 10 planes. These guys, I'm afraid, are not going to find a way through this."
As for BOC Aviation, which made a record pre-tax profit of $775 million and a net profit after tax of $702 million for its latest fiscal year, Martin said April has been a reasonable cash flow month. May and June will be the months when the impact of the COVID-19 virus will be revealed, the lessor believed.
For a leasing company, the liability side of the balance sheet is its Achilles heel, Martin said. "We are very careful to manage the liability side of our balance sheet with long-term debt. This year, when everyone else was in Dublin attending the Air Finance conference, we were raising bonds in Asia - 400 million of them to be exact - because we could see the coronavirus in China by this stage," he said.
"We said 'safety first'. Get out. Raise some money. At the close of March we ended up with $3.6 billion of cash and credit lines. We have added to that since." As recently as April 29, the lessor closed a $1 billion five-year bond, the first U.S. bond launched since the start of COVID-19.
Access to bond markets is essential, Martin said. "We do that by keeping our investment grade credit rating. In particular, we have done a lot of work with Fitch and with Standard & Poor's. The bond we closed yesterday was rated A-Minus. They are comfortable with the fact we can raise money from the market and we are comfortable we have credit ratings that mean we can react to and access it if we need to.
"We have 70 banks in the bank group and we have been tapping in to some of these banks to raise financing. And of course, we have the Bank of China. We had a $2 billion backstop facility from them which we had not touched since 2011, but for the first time we drew on it this month [April], just to make sure it still works."
In the current climate, customers of all lessors do not want to accept new aircraft they will immediately have to park. BOC Aviation has 58 aircraft scheduled for delivery to December 31, 2020. Indeed, on the morning of this interview, it accepted two 787s, from American and United Airlines, respectively.
Martin said there was supposed to be a lot of older aircraft retired from this year and 2024. "Part of the drop in the market will be taken up by people when they get to that last heavy maintenance visit. They just won't do it. They will park the aircraft. That will take up some of the slack but not all of it," he said.
"The manufacturers' reduction in production will help. Our feeling is this is going to be the toughest year. You are not seeing many aircraft being moved at the moment because it takes time for airlines to run out of cash. But it will start in the second half of this year. We have to expect that."
"If you look at where the big orders were going to be delivered during this period, particularly on the single-aisle side, surprise, surprise, its category three. Big low-cost carriers. AirAsia, Lion Air, Indigo, GoAir and SpiceJet.
"All of these customers do not want deliveries from the OEMs and a number of them were relying on purchase and leasebacks to finance them. The question is: do these purchase and leasebacks stay in place?
"We have very few purchase and leasebacks because we were told we were too expensive last year. So we did very few. I know a lot of smaller lessors have them and we can feel some of them are having issues. Both manufacturers are asking us to help in some of those situations. Its mainly a narrow-body situation. On the wide-body side, the big carriers in Asia still seem to be taking those."
Ultimately, said Martin, the survivability of a number of those carriers was dependent on their governments. "This is a very important point. This is different to SARS (Severe Acute Respiratory Syndrome 2003-2004) and 9/11 because we did not have the extended crisis we are seeing this time. The role of governments comes in two ways. Number one is supporting airlines. They can do that by taking equity in them, issuing them with loans, providing salary subsidies for their employees. All three are being used in different ways in different countries," Martin said.
"Crucial in my view is for governments to determine cross-border flows of people. In particular the speed at which visa schemes are re-introduced and borders are opened. For airlines based in small countries or with small population bases, this is very important. If you are in a big domestic market, Indonesia for example or China, it is different. You could survive domestically. But if you are in a smaller country that makes it much more difficult."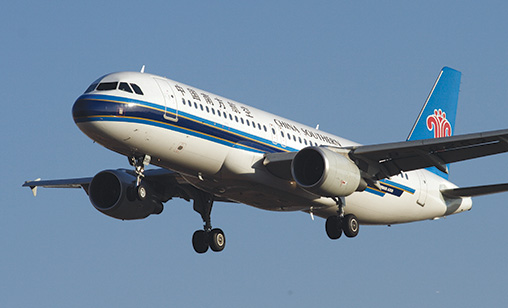 China's airlines contain impact of COVID-19 on Hong Kong lessor


BOC Aviation's view that China's leasing market is in far better shape than elsewhere was underscored last month by the China Aircraft Leasing Group Holdings (CALC) statement on the projected impact of the COVID-19 pandemic on the Hong Kong-based, Mainland funded lessor.
"CALC's strategy is always to pursue "stable and sustainable growth" in the relatively resilient aviation sector, it said. "CALC has been highly selective in engaging airline clients."
Chinese clients, a majority of them state-owned airlines, made up 65% of the lessor's fleet of 139 aircraft (self-owned and managed) at March 31, this year. With strong liquidity and financial strengths, because of domestic demand, CALC said it was shielded from disruptions to international traffic. The majority of CALC's non-Chinese clients are flag carriers or are backed by strong shareholders.
CALC said 92.8% of its fleet is narrow-bodies, which it described "as a very liquid asset class and an aircraft type poised to be highly sought after for domestic and regional routes when the market recovers".
"CALC has developed a diversity of different funding sources in China and offshore, including Pre-Delivery Payment ("PDP") syndicated loans, aircraft project loans, US$ bonds, Renminbi medium-term notes, corporate bonds and others, on top of its asset light business model," it said.
"In March, CALC secured a RMB1 billion (US$142 million) borrowing in China, priced at 3.65%. The company's cash holdings and bank balances were US$490 million and undrawn borrowing facilities were $555 million at March 3," it said.