The aviation industry of Taiwan became much more interesting in mid-2016 when it was announced Chang Kuo-wei, the former chairman of EVA Air and a prominent figure in Taiwanese aviation, would start his own airline, challenging the long-established duopoly of the country's two major carriers. Read More »
Starlux Airlines, launched in January this year, was conceived by its creator as a boutique airline, promising passengers a premium travel experience backed by the best product on the market.
Its beginning was not best timed. It started its operations almost at the same time the COVID-19 pandemic put the whole industry on hold. Its launch date was 12 months later than planned.
The question being asked now is will the current crisis break the new carrier or will it present opportunities for a brand, and the carrier, that has set out to change the airline status quo in Taiwan?
Creating opportunity out of adversity might well be in the DNA of Chang. In 2016, the life of Chang, the chairman of EVA Air since 2013, took an unpredictable turn after the passing away of his eighty eight-year-old father, Chang Yung-fa, the founder of the Evergreen shipping group and the owner of EVA Airways.
Soon afterwards, Chang who is the youngest son and the only child of Chang Yung-fa's second wife, was ousted from his position as EVA Air chairman by fellow board members, mainly his family rivals, in particular his half-brother, Chang Kuo-cheng.
The decision by commercial pilot Chang, familiar to Taiwanese as an outspoken expert of the industry, to start his own airline after his sacking created enormous public interest across the country. Very quickly he was dubbed "Prince Hamlet" amid widespread speculation that retaliation against the family was the major motive for his decision to launch Starlux. Chang always dismisses this as gossip.
The story of a bunch of feuding would-be tycoons could not but help stoke public interest in the startup carrier, especially as Chang junior's father had left a hand written will near to his time of death that bequeathed the entire company to his youngest son and EVA Air 777 captain. As it has turned out, aviation enthusiasts have proved to be a very important group in cementing interest in the new airline.
Pilot Chang had not only been a successful chairman of one of Taiwan's major airlines, he also was leading EVA Air when it was better regarded than China Airlines for its quality and safety management.
With his background as a working long-haul captain, Chang was not shy about offering his opinions on industry issues, an outspokenness that earned him a lot of fans.
Cleverly, since the beginnings of the Starlux project, Chang has tapped into his personal brand to promote the airline. He went through type-rating training for the A321neo to pilot the first delivery flight to Starlux from Toulouse in late October last year. The airline's PR team used Facebook to directly contact followers of the flight. Its first stop in Taiwan was Kaohsiung airport. Despite a very early morning arrival and short notice of the stopover on social media, the airfield's perimeters were crowded with plane spotters and fans. Soon after the aircraft landed, social media was flooded with images of the Airbus plane in Starlux's livery. Facebook has several groups of Starlux fans in Taiwan with one of them registering more than 100,000 members.
Such PR stunts have become the trademark of Starlux and as the pandemic drags on they are essential to keeping the brand front and centre in Taiwan despite the major disruption to regular operations brought on by the pandemic.
Of three initial Starlux destinations out of Taipei, the carrier suspended its service to the Special Administrative Region of Macau less than two weeks after the inaugural cross strait flight. In quick succession in March, Taipei to Penang in Malaysia and Vietnam's Da Nang were put on indefinite hold. In September, the carrier's website said routes to Penang and Macau were being operated, but Taipei-Cebu has been postponed twice and is now planned to launch next March.
In the meantime, Starlux is operating flights to nowhere and has resurrected its e-commerce platform, Starlux Shop. The online site's limited offer of moon cakes packaged in a miniature air cargo box to celebrate the Mid-Autumn festival generated substantial interest.
"None of these campaigns constitute our genuine business. They contribute only a tiny profit to our revenue, but as the pandemic drags on, we can only rely on our creativity to maintain some buzz", explained Chang in widely read CommonWealth magazine.
Perhaps the most important factor in creating Starlux's strong brand is the carrier's dedication to providing a premium passenger experience.
The interior of the A321neo, designed by the renowned BMW's Designworks studio, offers business class seats that recline to a fully flat bed, an inflight entertainment system for every passenger and Wi-Fi with basic access.
As an airline from Taiwan, the island where enjoying tasty food is rooted deeply in local culture, Starlux offers a choice of favorite local meals, prepared in collaboration with famous local restaurants, including Michelin-starred Longtail in Taipei. It prepares the menus for Starlux's business class travelers. The crew's uniforms are created by local designer, Sean Yin, the boarding music was composed for Starlux by famous jazz musician, Peter White, and Taiwanese fragrance brand, P.Seven, developed a unique scent to enhance the ambience of the carrier's cabins.
The investment necessary to create a brand to dazzle travelers has a hefty price tag. In the first half of 2020, Starlux lost NT$1.31 billion (US$44.8 million), NT$1 million less than China Airlines.
To June 30, the full-service carrier had accumulated losses of NT$2.81 billion. The company was not only spending money on fixed costs such as staff salaries, but on construction of warehouses and its own MRO facilities, pointed out Nieh Kuo-wei, the Starlux Airlines spokesman quoted by local UDN News.
The commitment to expanding the brand remains strong, even during the pandemic. In September, Starlux announced it would lease eight A330-900neo, the first Taiwanese carrier to commit to the type. Deliveries will start in the fourth quarter of next year. Starlux's order book is now 10 A350-900s, nine A350-1000s and an agreement to acquire three more A321neos above its previous order of 10 of the type.
Following the recent signings, Starlux will have 39 aircraft by 2024, putting it on par with the operations at CAL and EVA Air. In a decision bucking a premium cabin trend, the airline has announced the A350 will join its fleet at the beginning of 2022, slightly later than originally planned, but that the plane will be equipped with a first class cabin.
Chang is no stranger to going against conventional wisdom. One of the informal managerial truths in the industry is that the colors of an aircraft livery have no effect on profitability.
The brainchild of Chang, EVA Air managed to bend this rule by creating, in cooperation with Japanese company Sanrio, the Hello Kitty Jet. The concept grew into a small, dedicated fleet operating on specific routes that attracted great interest and filled planes.
There are many stories about Chang, a huge aviation enthusiast and constant learner. He started his climb through the ranks at EVA by working at the airline's check-in and baggage counters and has a proven record of being ahead of general thinking in the industry.
Perhaps the most famous of his documented insights happened in the early 2000s when he convinced his father, an ardent fan of the 747 as the foundation of the carrier's long-haul fleet, to order the new 777-300ER.
"Building the right fleet of planes is crucial to the survival of a carrier, which could suffer for up to 20 years if the wrong model is purchased. The 777 push was the best bet I've ever made," Chang told Forbes magazine in 2014.
Chang is widely considered to be a friend of Boeing. His personal aluminum Rimowa pilot suitcase is decorated with a big Boeing logo sticker, but for Starlux he has chosen Airbus aircraft.
The COVID-19 pandemic, although a setback to the initial plans of Starlux, might present opportunities for the new airline. It is believed by many experts the demand decline from the pandemic outbreak will upend the accepted model of business travelers providing a major source of income for airlines.
In the new reality, post-COVID-19, the biggest patrons of the airlines might be passengers paying for premium flying with their own money thereby choosing their own airline rather than having to accept the carrier choice of their corporate bosses.
With its elevated brand that is capturing the imagination of passengers expecting grand flying, Starlux might benefit from this change. The added bonus for the startup is reduced air traffic at Taipei Taoyuan Airport presumably making it easier for the airline to be awarded quality slots.
Opportunities from the pandemic could be behind the recent changes at Starlux, which is becoming more assertive in challenging its established rivals, CAL and EVA.
After announcing the Starlux project in 2016, Chang was careful to avoid inferring he would be directly competing with his former airline. In fact, he did not rule out the possibility of some form of cooperation with EVA at the time.
But Starlux's order book extension, announced in September, is an indication Chang and his team are no longer wasting time in their efforts to become a force in commercial aviation in Taiwan.
In October, Starlux said it would inaugurate twice-weekly flights to major Asia hubs, Bangkok Suvarnabhumi, Osaka Kansai International and Tokyo Narita, from December. It is a decision that will challenge the two main airlines of Taiwan, which already were struggling pre-pandemic from extended industrial disputes with their employees.
Perhaps the most symbolic and telling indication of Starlux's ambitions was the decision to break the long-standing Taiwanese tradition of aircraft registrations.
Tail numbers in Taiwan that consist of the letter B followed by five digits would normally not include the "unlucky" number "4" at the front or at the end of the registration. With more than 260 aircraft registered in Taiwan, not a single one of them has broken this rule, claimed UDN News, until now. The latest addition to Starlux's fleet, an A321neo, registration B-58204, was delivered in November. It will be the first exception to the long-held identification practice for the nation's airlines, indicating Chang will not be swayed by superstition.
In the end, it is Chang Kuo-wei and his drive that has brought Starlux to life. His ability to attract talented people to the airline as well as solid business partners has created a brand that not only stands out in the local airline industry but also across the entire corporate landscape of Taiwan, a country more famous for its OEM and ODM ventures than groundbreaking branding.
In the current most unpredictable times for the industry, it is very difficult to make safe bets about any players. It would appear though that Chang, who is 50 this year, is determined to stand and fight for the star in the logo of his Starlux Airlines to shine in full.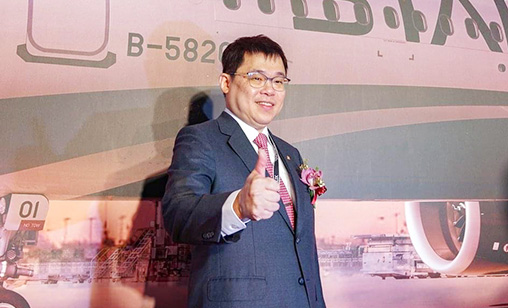 Star power of "K.W."


Four years ago, at age 45 and finding himself outsted from the family firm, the Evergreen Group scion and aviation nut, "K.W." Chang, decided to act on his belief Taiwan deserved a better full-service carrier than what was on offer.
In mid-2016, he announced the formation of the company that would own and operate Starlux Airlines. He received regulatory approval for the startup a year later and intended to commence Starlux routes early in the first quarter of 2019. A hyped up Taiwanese market was ready for the launch.
For various reasons, Starlux did not begin flying until last January: experiencing some of the worst luck in the history of Asia-Pacific aviation when it comes to airline launches.
Equipped with A321 family aircraft that have hardly flown anyway in the last 10 months, Starlux's management team recently announced the start of three regional destinations from Taipei to Bangkok, Osaka and Tokyo Narita in December. Essential to the long-term business plan of the carrier are destinations in North America and Europe.
The impact of COVID-19 on the startup is not the first time the fourth child of Evergreen Group founder and owner, Chang Yung-fa, has faced uncertainty head on - and had to get out of a mess.
Born into a gilded Taiwanese dynasty, he studied economics, and spent hours at aircraft manufacturer, McDonnell Douglas, in the U.S before returning to Taiwan and EVA Air in 1996
He began his climb to the top of the family business in baggage processing and passenger check-in. He was known for his understanding of aircraft engineering and MRO, before he moved to head office two years later.
At the age of 34, he took charge of EVA and his half-brother, Chang Kuo-cheng, was appointed head of the group's shipping division, Evergreen Marine.
Their father, it is reported, was an advocate of tough love and it was not long, in 2006, before K.W. walked away from the job.
Within four years, after obtaining his wings with Boeing, he was back at the carrier as chief executive and vice president and flying on the side.
In 2013, he became EVA Air chairman and was running the airline group when his father died in 2016. The elder Chang's will, handwritten as he approached death, left the entire Evergreen group to K.W. infuriating his three siblings. They engineered his ousting from the airline and instigated court proceedings to challenge the authenticity of the will.
In 2017, Starlux was approved by Taiwan's regulator and plans to launch the carrier, with an emphasis on full service passenger luxury, began in earnest.
Its first flight, Taipei to Macau, flew in January this year and was intended to capture market demand during Lunar New Year holiday break. Only weeks later the scheduled flights were suspended after countries began restricting entry to visitors as COVID-19 spread beyond China.