The way the cargo division works makes Kao proud. "The entire Cargo team at China Airlines headquarters and branch offices around the world is about 800 people, just 8% of our total workforce. Read More » This dream team showed what they can do by aggressively expanding our freight revenue and dispatching more than a hundred charter flights in a month. They achieved unprecedented charter rates and revenue as well. More than a thousand pilots flying around the clock as well as the full support of maintenance, ground handling, and other logistics units made it possible for China Airlines to exceed TWD100 billion ($3.6 billion) in revenue so far in the pandemic. Their efforts helped China Airlines improve its ranking in global freight."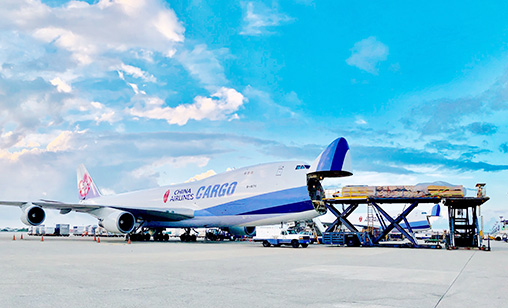 The most visible asset of China Airlines Cargo is its dedicated freighters. "China Airlines operates the largest 747-400F freighter fleet in the world. The surge in air cargo demand during COVID-19 has meant our 18 747-400F freighters are kept busy. During the pandemic, we also began taking delivery of 777F freighters that were on order. Our fleet of 21 freighters, eighteen 747-400Fs and three 777Fs, was fully utilized in 2021. We increased our scheduled freighter services by 23% and flew additional services in response to market demand, operating up to 130 flights each week," Hsieh said.
Freighters are used mainly on higher value routes to the U.S., such as Chicago or Los Angeles. "China Airlines continues to optimize network performance, to develop promising markets, and to focus on the development of special cargo such as e-commerce, precision machinery, and cold-chain products to boost profits," Hsieh said.
"In addition to bidding for the vaccine transport market and to transporting vaccines purchased by Taiwan on a number of occasions, we also have generated new revenue sources by carrying out vaccine transshipment missions to other countries in Asia and Oceania. Our cold chain logistics business has grown several-fold and we will continue to monitor the latest developments in the global cargo market" Hsieh said. "To date, we have transported 80 million doses of COVID-19 vaccine. The rapid growth of China Airlines cold chain transportation business has caused a significant increase in the use of temperature-controlled containers as well. We operated 2.5 times more temperature-controlled containers in 2021 compared to 2018," said Kao.
The 747-400F freighter ability to load or unload large cargo is used to transport special cargo. The company used a bidding system for hold space to increase unit revenues by prioritizing high-value sources such as urgent and project cargo.
For close to two years, CAL has been assigning passenger aircraft to cargo missions. "Flights were considered worthwhile if revenues from the belly hold covered variable costs such as fuel, airport fees and labor. Strong global demand for cargo services (e.g. medical supplies and aid, and merchandise related to the stay-at-home economy) meant that, on average, passenger aircraft flew over 1,000 cargo only services each month. The U.S. West Coast saw particularly strong demand for cargo. China Airlines was operating up to six or seven flights to Los Angeles per day during the peak season," Hsieh said. Some flights, mostly to the U.S. West Coast, where the demand was the highest, also were carrying cargo in passenger cabins.