Finally, there is light at the end of the tunnel for Malaysia's AirAsia X (AAX) following last month's announcement of the carrier's first annual profit since its IPO in July 2013. Read More » "It was a great 2016 for AirAsia X. We made a significant statement with our first full-year profit since listing," CEO Benyamin Ismail told Orient Aviation in Kuala Lumpur last month.
It was also great news for Benyamin, the 39-year-old Australian-educated Malaysian who had spent his working life as an investment banker until he joined AAX as head of investor relations in 2010.
Confirmed as CEO in September 2015, after he was made acting CEO in January of the same year, Benyamin and his team are proving they can turn the carrier around. It recently won clearance for its first U.S. services, the launch of Kuala Lumpur-Hawaii in June, and plans are again in play for the airline to fly to Europe after an enforced five-year hiatus.
A new fleet of 55 A330-900neo and 10 A350-900s are on the horizon, which will introduce to the fleet aircraft that will reduce fuel costs and open new non-stop destinations for the LCC.
Speaking to Orient Aviation at the AirAsia Group's new headquarters at Kuala Lumpur International Airport 2 (KLIA2) shortly before the 2016 results were announced, Benyamin was clearly happy the carrier was on the right side of the balance sheet. But he also was candid about the problems the airline faces.
For the full 2016 year, AAX reported an operating profit of $62 million, a net operating profit of $56 million and a net profit after tax of $51.8 million. Passengers increased by 40% year-on-year, to 1.38 million, balanced by a 44% increase in capacity. Its load factor of 81% was a record for the airline.
Benyamin said AAX ended the year in a stronger cash position, up 36% year-on-year, to $94.8 million in cash and bank balances. Its borrowings were reduced to $260.5 million and it had lowered its net gearing ratio.
AAX flies to 24 destinations with a fleet of 22 A330-300s across the Asia-Pacific: Tokyo, Osaka, Sapporo, Seoul, Busan, Taipei, Xian, Beijing, Hangzhou, Chengdu, Shanghai, Chongqing, Wuhan, New Delhi and Kathmandu, Sydney, Melbourne, Perth and the Gold Coast, Auckland, Jeddah, Tehran, Muscat and Mauritius.
Ismail said no more aircraft will arrive at AAX this year. For the following two years, capacity will be flat.
Despite that strategy, there is one route in Benyamin's sights: a return to London. "We have always wanted to go back to London, but we have to find the right fleet to go in. The aircraft that can take us, which is the A330-900neo, only comes [to AAX] in 2019," he said. The carrier hoped to have the aircraft by 2018. It still hoped it could arrive a little earlier than 2019.
Reports that AAX looked at acquiring a couple of Boeing B777s were correct, but Benyamin said it was extremely unlikely to happen. "Triple sevens just came to our table. We looked at them, but we're not Boeing experts. The whole group is Airbus. And to be honest, if you put aside the fleet type, the yields to London are very depressed. The landscape is crazy. Emirates are dropping fares like crazy to London. It amazes me how this route is making money," he said.
"We are going to be extremely cautious. We have just spent two years of hard work to build cash and we are not going to bury it just like that. If we can acquire a couple of suitable aircraft - if there are any cheap A330s coming out of lease - we will look at London. If the numbers stack up, we will do it."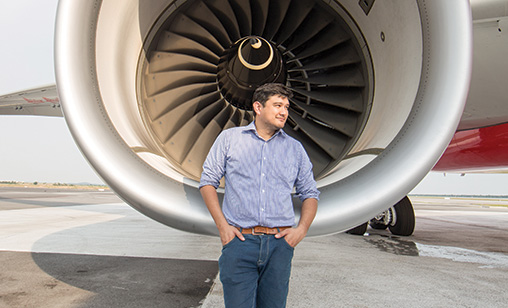 'We owed people close to 500 million ringgit (US$112 million). We needed to go out there, have a bit of a thick face and take the brunt of the problem with creditors'
Benyamin Ismail
AirAsia X chief executive
When Benyamin took over at AAX the carrier had been struggling on several fronts. There was huge competition. As well, it's financially troubled neighbor, Malaysia Airlines, which had been losing money even before its brand was decimated by two tragic fatal crashes, became a virtual low-cost carrier. It was offering cheap fares to recover market share.
"As a LCC we had no choice but to match the fares. We could not be seen to be more expensive than them. This highly impacted our profit and loss and put us in a really bad position," he said.
At the same time, AAX was operating several long-haul routes, including London and Paris, that were launched when fuel was $78 a barrel, but then aviation kerosene shot up to $150 a barrel.
"A lot of the problems lingered. We had to see where we were in terms of our positioning. I guess the shareholders thought we needed a change," he said. That's when Benyamin was given the job of turning the carrier around.
"Commercially, we had to look at the routes: what was bleeding and what was not. We made a painful decision to cut some which were bleeding badly. Adelaide was one which was tough for us to make money. We cut Narita and Nagoya.
"Australia kept being our bread and butter, but it also has a very high cost base for operations. At the time, we were doing double dailies and due to cash constraints in the past we were failing to do ourselves justice by not marketing broadly. "We were not attracting passengers and the loads were not the best." As a result, services to Melbourne and Perth were reduced.
Another problem was the contracts the airline had with service providers. "We renegotiated a lot of our contracts with caterers, airports and a host of other suppliers. We were successful with some, with some we weren't and some were OK," he said.
The biggest problem, said Benyamin, was the debt the airline was carrying. "We owed people close to 500 million ringgit (US$112 million). We needed to go out there, have a bit of a thick face and take the brunt of the problem with creditors," he said.
"Some agreed to give us a payment plan. Some agreed to shelve some debt. Some gave us a haircut. But it helped. Now we have close to $33.7 million of debts left, which is far better."
Benyamin also looked at operations. He said AAX was doing four hour flights with the crew overnighting. Now the crews come straight back.
"This is all cost and we are doing all this within the limits of regulations. We also looked at fleet and route management and tankering fuel. In the past, we were just filling up to the brink. Now, we tanker," he said.
"If fuel at the destination is more expensive we'll tanker more from Kuala Lumpur to save a bit. All these things add up. The last thing is yields. Yields were quite depressed. It was scary. We were bleeding across the board. We needed to move that up. We actually put aside some cash to bring ourselves to the market."
Yields have improved. "If you look at the trends we are up year-on-year. I think we are the only airline that has put in 30 percent capacity yet has a load factor that is up by two points. Yields have improved by close to 25%. All these factors have worked in tandem which is very rare," he said.
With its capacity cut, the carrier has improved aircraft utilization to 14 to 15 hours a day from 11 hours daily. "Once passengers grew I put back the capacity. Sydney is back to double dailies. Perth is back in doubles. The biggest surprise for me is the Gold Coast, which has grown from four flights a week to 11 weekly.We have a tag onto Auckland from the Gold Coast, which is doing really well. The good thing about doing Auckland-Gold Coast is that the Gold Coast is the number one destination for Kiwis. It's a weekend away for them. We have fifth freedom rights. That is critical. Emirates does that as well," he said.
Another important element of AAX's rebirth has been better co-ordination with AirAsia, it's short-haul partner. In its new headquarters at KLIA2, an airy, open plan complex, Ismail is a stone's throw from the offices of AirAsia Berhad chief executive, Aireen Omar, and AirAsia Group boss, Tony Fernandes.
"Before my time we were working in silos. There was no co-ordination. We needed to fit together and make the fares more competitive. We needed to be better and better than our competitors," he said.
"Now, we time our flights together to ensure passengers don't have a seven-hour layover. We co-ordinate timings to make sure our customers have a maximum three to four hour stopover."
With 45% of AAX passengers feed on from AirAsia, the coordinated schedules have played a crucial role in improving AAX's customer profile.
Unlike other long-haul LCCs, AAX has lie-flat beds in a 12-seat premium cabin. Singapore Airlines-owned Scoot also has a premium seat but it is not lie-flat. "It has been very successful. Generally, you can only fill 80% of the plane. With these incremental empty seats you might as well convert them to a business class that can be sold at a higher yield. Our loads for that have been very good. Rather than having just a premium seat you have to give something that differentiates you," he said.
"This has been doing very well, especially on the longer flights. For Australia, it has been a winner for us."
Benyamin also is considering the introduction of internet at the airline later this year. "Short haul has it and we want to do it on long haul. I don't think we will have a full blown entertainment system. It will more likely be Wi-Fi connectivity that people can use for the entire trip. Being optimistic, I'd look at one or two planes this year to see if it takes," he said.
Like most airlines, China is a critical growth market for AAX. "The group flies to close to 30 points in China. AAX flies to nine points and we are looking at growing that number this year. The issue with China is slots and timing. The whole world realizes how big and how critical China is to the industry," he said.
"We just started Wuhan, which will go daily. We have one or two more destinations we want in northern China. We are awaiting approvals. Other than that it's all about increasing frequencies. Beijing and Shanghai are doubles now. We want to grow that and we want to grow other markets such as Chengdu and Xian. We were the first international carrier that flew into Xian and it is doing very well for us. So we want to grow that as well."
Longer term, AAX has its sights on more U.S. destinations. Its new service to Honolulu, with a stopover in Osaka, is a major breakthrough. It is the first Asian LCC to win approval for U.S. flights. Already, sales have outstripped expectations. But it can't fly on from Hawaii to Mainland U.S. because it would be a U.S. domestic leg.
"If I want to do it I would have to do Kuala Lumpur - Haneda - Los Angeles or Seoul to Los Angeles. It is in our five-year plan. Let's make Honolulu work and see how we go from there," he said.
In the meantime, AirAsia's two other X brands, Thailand AirAsia X (TAAX) and Indonesia AirAsia X (IAAX), are different stories. The Thai offshoot, which operates six A330s, always has performed well, although it reported a lower operating performance last year, mainly due to the twin, short-term impacts of the death of King Bhumibol Adulyadej and the Thai government's crackdown on zero-dollar tours from China.
Nonetheless, the outlook for TAAX in 2017 remains positive as Thailand is a natural tourist hub in the region with a strong inbound and outbound track record. IAAX remains suspended as part of a network restructuring aimed to improve operational efficiency. The airline's two A330s are leased to AirAsia.
Ismail said TAAX's growth has been restrained by the U.S. Federal Aviation Administration's (FAA) downgrade of Thailand aviation to Category 2. "The good thing about the other affiliate, Indonesia AAX is they have now been upgraded to Category 1, so they will be able to fly anywhere. They are still not flying but are in the process of receiving approvals and are looking at a June return to business," he said.
One issue that has dogged AAX is the weak local currency, the Ringgit, against the U.S. dollar. "Currency volatility means the management will continue to mitigate foreign exchange risk via hedging," he said.
"We also will reduce the impact of foreign exchange rates by intensifying sales in stronger currency markets, such as the Australia, to offset U.S. dollar bills. A lot of our cost is in U.S. dollars, but also a lot of our revenues are in foreign currencies. Our big markets are China and Australia. So we have foreign currency coming in. In China we get settled in U.S. dollars so it is alright."
AAX has been aggressive with its fuel hedging. "Hedging for this year is about 60%," said Benyamin. "Last year we hedged close to 100%. This year we are trying to find more positions to see where we are. The fact we hedged 60% very early on from last year and the fact fuel is slowly creeping up means we are a bit in the money." AAX is hedged at $53 to $54 per barrel.
In 2017, AAX's focus will be on strengthening its market leadership by stretching out aircraft utilization rates through more incremental frequencies on both high yield and new routes.
"We have set targets to ensure the company remains lean while maximizing operational synergies between AirAsia and AirAsia X. We believe AirAsia X is in the right position to fly even higher in 2017," he said.
Dream job


AirAsia X chief executive, Benyamin Ismail, is a self-confessed plane spotter who loves the fact that despite an early career in investment banking, he has ended up running an airline. "I love planes. Working for AirAsia X is a dream," he told Orient Aviation.
Sent to boarding school in Perth, Western Australia, as a 12-year-old, the young Benyamin spent 13 years in Perth where he graduated with a banking and finance degree and completed an MA in electric commerce at Edith Cowan University. Along the way, he represented Western Australia in the Rowing Nationals during his first two years at university and now keeps up his fitness with football, basketball and Muay Thai (kick boxing).
"After that I decided to be a prodigal son and return to see the family," he said, "I worked in investment banking for almost nine years. AirAsia was one of my clients. There was a time when I needed something different so I took a job in investor relations at AirAsia. Things just went from there."
He joined AirAsia in March 2010 as Head of Investor Relations, a unit set up by AirAsia Berhad chief executive, Aireen Omar, herself a former banker. She recruited Benyamin to run the new department, where he brought the experience of his years working in debt capital markets to the job. He had spent three years at CIMB Investment Bank in Kuala Lumpur, after stints at Maybank Investment Bank and Affin Investment Bank where he also managed capital debt portfolios.
At AirAsia his job extended to input at the corporate finance and fuel procurement unit which played a critical role in AirAsia's ascension to one of the most attractive companies on the Bursa Malaysia (Malaysian stock exchange). He was appointed acting CEO of AAX in January, 2015.
As he settled into the job, he had the support of the chief executive of the AirAsia X group, Datuk Kamarudin Meranun. At the time, board members said they wanted to groom talented staff from within the company for the top jobs. Benyamin's "probation" ended when he as confirmed as AAX's CEO in September 2015.