Don't rush into private airport deals cautions IATA
Privatising airports has been a popular political solution to the decades-long aviation infrastructure shortfall. But a recently commissioned International Air Transport Association (IATA) study indicated airport operator monopolies are not in the best long-term interests of either consumers or airlines. Chief correspondent, Tom Ballantyne, reports from the association's annual general meeting in Sydney last month.
Congested runways, crowded airport terminals and jam-packed airways are daily realities for airlines - and the Asia-Pacific is no exception to the experience. Read More » In the fastest growing air passenger market in the world, slot constraints are curtailing expansion and unconstrained price increases imposed by private airport operators are eroding profits.
With global passengers forecast to take 7.8 billion journeys a year by 2036, the industry is in "a capacity crisis" said IATA director general and CEO, Alexandre de Juniac, at the association's annual general meeting last month. "And we don't see the required airport infrastructure investment to solve it."
In his keynote address to more than 1,000 AGM delegates in Sydney, de Juniac said governments were struggling to build facilities quickly but that tight national budgets meant "many of them are looking to the private sector to fund the investment gap".
"We need more airport capacity, but be cautious. Expecting privatization to be the magic solution is a wrong assumption," he said. "About 14% of airports globally have some level of private ownership but as they are usually large hubs they handle about 40% of global traffic."
Calling for government action and for common sense to prevail, the IATA CEO said: "As customers of many airports in private hands, airlines have far too many bitter experiences. Travelers also sense the problem."
Ratings company, Skytax, has reported that five of the top six traveler preferred airports worldwide are government owned. They are Singapore Changi Airport (1), Incheon International Airport (2), Hong Kong International Airport (4), Hamad International Airport (5) and Munich Airport (6).
"Motivated by our members' frustration, we did our own performance benchmarking," de Juniac said. "What we have learned through a study undertaken by Deloitte is that corporatization as a model can be combined with other operating models to achieve the main objectives of privatization without the sale of assets, loss of strategic influence or a potential negative impact on airlines, end consumers and the economy," IATA said.
IATA solution against human trafficking


At the 74th International Air Transport Association AGM in Sydney, airline members voted to:
• denounce trafficking of persons.
• encourage member airlines to train relevant operational staff with the objective of enabling them to recognize potential trafficking situations and deal with them in accordance with company policy ad, where appropriate, report these to government authorities.
• call on government authorities to establish clear, practical and discreet mechanisms for reporting of potential trafficking in persons activity in the air transport system.
• call on airport operators, ground handling agents and other air transport system stakeholders to work collaboratively with government authorities and civil society to prevent and suppress human trafficking including reporting and awareness raising programs.
At the AGM, member airlines voted in favour of a motion that urged governments, when considering airport privatization, to focus on the long-term economic and social benefits of an effective airport, to learn from positive experiences with corporatization, to examine new financing models and find alternative ways of tapping private sector participation. The benefits of a competitive airport infrastructure also had to be locked in with rigorous regulation, the association said.
"There is no one-size-fits-all solution. A broad range of ownership operating models exist that can meet a government's strategic objectives without a transfer of control or ownership to the private sector," said de Juniac. IATA believed that since airports are a critical part of national infrastructure governments should maintain an ownership interest in them.
"The most important factor is that airports meet the needs of customers and airport infrastructure users at a fair price. To do that, user consultation must be an integral part of the consideration process," de Juniac said.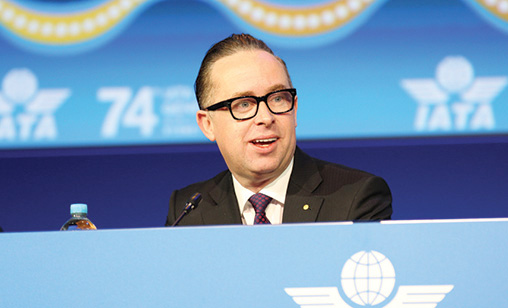 'In Australia, we have first rate airlines and third rate airports'
Alan Joyce
Qantas group CEO
Qantas Group CEO, Alan Joyce, who hosted this year's AGM, said: "Airport infrastructure is an issue around the globe. We were talking in Sydney for 50 years about a second airport. It is finally being built, but it won't be here [completed] until 2026. The airports are constrained. Privatized airports are more expensive and they have led to a bad outcome."
Incoming chairman of the association's Board of Governors,Qatar Airways group CEO, Akbar al Baker , said: "Infrastructure is a bigger threat to airline growth than the price of oil. There is today a capacity shortage of more than a billion passengers across the globe."
An infrastructure report by Asian Sky Group said eight of the leading airports in Asia were full and of the 1,017 airports across the region, Hong Kong faced the most severe constraints. In the next two years, Beijing, Manila and Singapore will reach saturation, the study said.
Ironically, the warning of crises ahead comes at a time when the industry is performing reasonably well. The association said solid profitability was holding up in 2018 despite a recent downward revision of earnings from US$$38.4 billion to $33.8 billion for the year.
"The industry's financial foundations are strong with a nine-year run in the black from 2010 and a forecast return on invested capital that will exceed cost of capital for a fourth consecutive year. At long last, normal profits are becoming normal for airlines. This enables airlines to fund growth, expand employment, strengthen balance sheets and reward our investors," de Juniac.
'Privatized airports are definitely more expensive but there is little difference in efficiency or investment levels compared with airports in public hands. The results of airport privatizations run counter to the results of airline privatization when the cost of travel dropped dramatically. Airlines do not accept privatizing airports must lead to higher costs and neither should consumers or voters. How can making the transport infrastructure more expensive, which means less competitive, be a legitimate public policy objective?'
Alexandre de Juniac
IATA CEO and director general
But IATA noted that since early 2016 operating profits, although remaining high by past standards, have been trending slowly downwards. In 2018, the return on invested capital for airlines is expected to be 8.5% compared with 9% last year.
Said the Association of Asia-Pacific Airlines director general, Andrew Herdman: "The global economy is in good shape and that is reflected in very robust passenger numbers. Cargo growth has slowed, but you're still setting new highs on last year's strong performance. So on the demand side things look good.
"Airlines are becoming nervous as the oil price lifts to around $80 a barrel, but so far they are being restrained from raising fares by the strong competitive environment. If fuel prices are up by about a third, you'd have to go up six or seven percent to neutralize that. We have not seen this happening yet which implies margins are being squeezed.
"But consumer confidence is still high, business confidence and trade is still solid and it's very hard to find economies that are not growing."
In what was described as one of the most intense discussions at the AGM, airline leaders voted to enact several anti-trafficking initiatives.
An estimated 24.9 million people are illegally trafficked said IATA and they live in conditions of modern slavery. The extensive reach of the air transport network meant traffickers used airlines to facilitate their activities.
"Some try to use our networks nefariously. Trafficking in people creates misery for millions and funds criminal gangs and terrorism. As a responsible industry, our members are determined to help authorities stamp out human trafficking," said de Juniac.
Airlines also called on governments to intensify efforts to spread the economic and social benefits of aviation. The United Nations World Tourism Organization (UNWTO) and the World Travel and Tourism Council (WTTC) has calculated tourist receipts of $89 billion and 2.6 million jobs would be created in the Asia-Pacific alone with the reduction of barriers to travel.
Also causing some disquiet at airlines are the trends towards protectionist agendas, global uncertainty following the U.S.'s withdrawal from the Iran nuclear deal, Brexit outcomes and threats to free trade.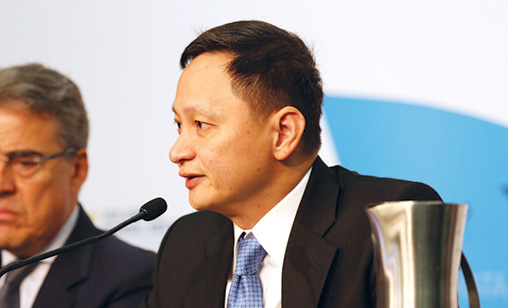 'As an association we of course would like more representation across all segments of our industry, including the LCCs and to the extent that we can understand what their concerns are and how IATA can be a bit more attractive for them. We will look at that. I think for most of these large LCCs the slot situation, airport privatization and other things are industry wide issues and what we are doing also will benefit our colleagues in the low-cost sector'
Goh Choon Phong
Singapore Airline CEO and
outgoing IATA Board of Governors chairman
AGM host Joyce said: "We've had a number of free trade agreements between Australia and several countries in the region. We have seen a significant boost in trade and a significant boost in travel as a consequence. "The Japanese market has dramatically benefitted from our free trade agreement. So, we see the upside when trade is released. We certainly have to keep a watchful eye to ensure there's no downside."
On fuel, airlines made it clear they could not say when the increasing fuel price would become a problem. It is difficult to say what the threshold would be for an airline to be significantly impacted," said one IATA speaker.
"It's an individual decision by each airline to increase fares. IATA does not interfere in that. It depends on the individual financial position of each member or their hedging policy. I cannot give you a magic figure by saying above $80 or above $92 or whatever."
Singapore Airlines CEO, Goh Choon Phong, said: "Fuel is obviously something outside our control. It is down to individual airlines to look at their own fuel efficiency measures as well as how they will respond."
De Juniac told delegates the deregulation of the air transport industry that began in 1978 in the U.S. ignited global changes that spread air transport's benefits. "Competition saw the price of air connectivity fall making air transport much more accessible. In 1978 the average person flew once every 6.6 years. Today the average is closer to once in two years. But a creeping trend of re-regulation, however, puts the gains of deregulation at risk."
One topic which did spark some heat during the AGM was the lack of women, not only airline CEOs but also on the IATA Board of Governors. De Juniac and airline executives were adamant they were all working towards encouraging and seeing women in senior roles.
Cathay Pacific Airways CEO, Ruper Hogg, said: "We are an all-male line-up [in a panel discussion]. We hope that does not continue forever. Inclusion is really important, particularly for minority groups to feel they have a place in Cathay Pacific. More than 60% of employees at Cathay Pacific and Cathay Dragon are women." Qantas' Joyce added he aimed for women to make up 40% of its cockpit crew.
Airline issues of concern


• Worldwide Slot Guidelines must be maintained and updated
• Barriers for intra country tourism must be loosened
• Real time baggage tracking to begin by 2020
• Biometric passenger processing be advanced at airports
• Maintain global operating standards mandated by the Chicago Convention
• Avoid creeping re-regulation that inhibits competition and increases costs
• Abolish visa restrictions on travel