Everywhere man
The International Air Transport Association (IATA) Board of Governors is heading into an interesting year under the chairmanship of Qatar Airways Group chief executive, Akbar Al Baker. But the outspoken and controversial Qatari has a lot more than the policies and performance of global airlines to resolve in the coming 12 months. Chief correspondent, Tom Ballantyne, reports.
When Qatar Airways's Akbar Al Baker was introduced as the new chairman of the International Air Transport Association's board of governors, he had promised his predecessor, Qantas' Alan Joyce, he would not say anything controversial at the press conference announcement. Read More »
The gulf carrier boss started well with a pledge to serve the international aviation community to the best of his ability and "most importantly, to try and control controversial statements made by me".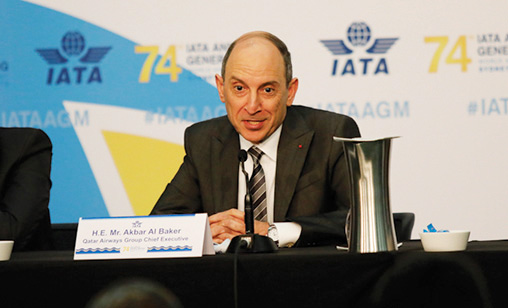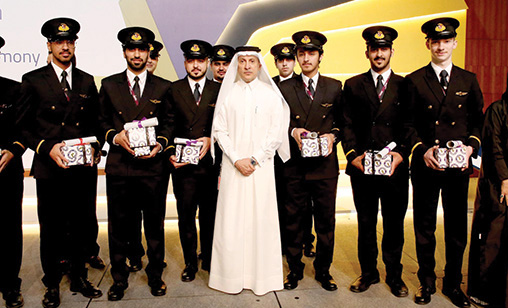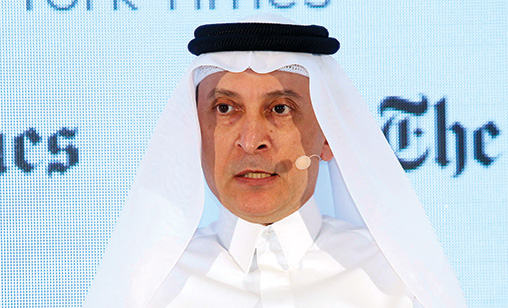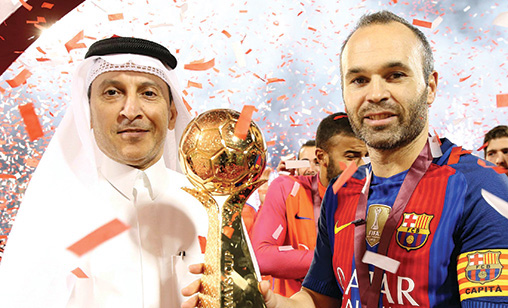 'He does not see the trend towards ultra-long-haul flying as a threat to hubs such as Doha. "Not at all. These ultra-long haul flights are very niche markets. The majority of the network is where there will be growth and the growth will continue," he said. "The growth in passenger numbers is huge and it is going to continue to grow'
Akbar Al Baker
Qatar Airways Group chief executive
Ten minutes later, a female reporter asked him if his job could be done by a woman. It was, Al Akber said, a job that had to be done by a man "because it is a very challenging position". His response drew disbelief from a packed press room at the final briefing of IATA's 74th Annual General Meeting in Sydney. Said Joyce good humouredly: "He lasted ten minutes. Ten minutes."
To be fair to Al Baker, he promptly apologized for his comments even as they hit the world's news rooms. "Quite frankly, I think the press took it out of context. They exaggerated. They blew it out of proportion. It was just a joke. I apologize for it and as a leader. When you do something that is taken in the wrong way it is not a problem to apologize," he said in later interviews.
To reinforce his case, Al Baker said he was the first person in the Gulf industry to encourage women to take positions at Qatar Airways. "We were the first to have women pilots. We were the first to have women engineers. Some 44% of my staff is female. We have senior vice presidents that are women. They report directly to me. And we have more than 150 women pilots who have been given scholarships, including foreigners, at my airline. "We have gender equality and in my country women have to be treated the same as men," he said.
"In future, I will have to make sure I am very careful. I will try to control myself. As the chairman of IATA's board of governors I will definitely do that and endeavor to bring more women on to our board."
The gender storm aside, Al Baker and his carrier are navigating a rocky period. His home country remains the target of a blockade by several neighbours who accuse Doha of supporting terrorism. The bans have prevented the carrier from operating dozens of regional destinations. They also have inflated the airline group's fuel bill as it has to fly longer routes to avoid the airspace over Saudi Arabia, the U.A.E. and Egypt.
In 2017, Qatar reported a $538 million profit on $10.6 billion in revenue for the year ended March 31. The results compared with $443 million in income for the previous year. Its latest 12 months will be very different. Al Baker already has said the carrier would have a "substantial" loss.
"We have increased our operating costs. We had to take a hit on revenue so we don't think our results for the financial year will be very good. I don't want to comment on the size of the loss but it was substantial," he said.
When asked in Sydney when Qatar would return to profit Al Baker said it would depend on the pace of the carrier's growth and the markets in which it was expanding. "Not every market will give you a positive result, but it is the aim of every CEO to make his airline very profitable."
Qatar has been investing heavily in major fleet growth with some 230 jets ordered to augment its 218-aircraft fleet. It is pushing ahead with expansion despite the geopolitical hurdles it faces.
It has purchased equity in British Airways-led IAG group, Cathay Pacific Airways, LATAM in South America and Air Italy. It is considering additional investments, including India. "Yes. if there are any tangible, attractive investment opportunities, Qatar Airways will invest," he said.
Unlike Abu Dhabi's Etihad Airways, which acquired holdings in numerous carriers and sent its senior managers to operate the airlines, Al Baker insisted he has no interest in interfering with the managements of airlines in which Qatar has invested,.
In a clear reference to Etihad, he said: "taking equity in airlines to seed into your hub and increase your passenger numbers does not work. The proof of this lies with the carriers in our region."
He continued: "We don't sit on the board of IAG and we do not intend to sit on the board of IAG. We don't interfere in the decisions they make because we feel this is a strategic investment.
Gulf and the U.S. agree on Open Skies


Is the U.S.-Gulf feud really over? "I don't think there are any other issues to talk about," said Al Bakar. "It should be the end because we have accepted it and the American administration has accepted it so I don't know what other excuse they could make because they did not win.
"Let's see now how the statement from the American carriers that they were not able to serve the sub-Continent and the Middle East because of the three Gulf carriers being subsidized by the State goes. Let's see how many flights they will put into the sub-Continent. I will be very interested to see that."
It is not an investment to benefit from the dividends and then get out. This is a long-term commitment from the State of Qatar to IAG and we will continue to do so."
At LATAM, he said, the same strategy applied, although regulations in Chile required shareholders with a specific size of equity in the group to have a representative on the board.
When asked by Orient Aviation what he expected from his 9.6% investment in Cathay Pacific, he said: "Well, it's a strategic investment and what you expect from any strategic investor is to make money for the company. It is about return on investment. We have just shy of 10% of Cathay Pacific and my friend Rupert (Cathay Pacific CEO Rupert Hogg ) has not seen my face except at IATA since we took up the shareholding.
"It shows we take strategic decisions and we don't interfere. We are only taking equity in winning airlines. We took a minority holding in Air Italy for the very simple reason that we see it is a huge market that doesn't have a strong national carrier. Italy is not connected to the world. So, we see an opportunity where we could grow our business. In the future one of our equity partners may well take a stake in Air Italy."
Al Baker said the partnerships are about understanding each other, being co-operative and taking the businesses forward together in a win-win for both sides. "That is extremely important for both sides and most importantly to have confidence in the organization of the other side," he said.
"It also is about helping each other. For example, Qatar has wet leased B787 Dreamliners to British Airways because it has a capacity shortfall. Its B787s have been impacted by Rolls-Royce engine problems. Giving aircraft to BA, this has been detrimental to Qatar, but we have a stake in the airline so we want to help the airline.
"We reduced frequencies in our network to release capacity to help BA. We have a strategic investment and it is my duty to help them if they need assistance." Qatar also has been talking to LATAM about offering it some narrow body capacity because it is running short of the type. At the same time, Qatar may take excessive wide body capacity from LATAM.
One issue that appears resolved is the three-year feud between the U.S.'s big three airlines - – American, Delta and United – and the major Gulf carriers over alleged subsidies and fifth freedom rights.
Qatar and the U.A.E recently locked in an agreement with their North American rivals that essentially confirmed the existing open skies deal. "We were the first to sit down and talk to the Americans and let them understand the way we do business," Al Baker said.
"Qatar Airways was releasing its accounts and we have no intention to Fifth Freedom [from Qatar to the U.S. via Europe]. We used to do it nearly 10 years ago. We stopped when we received our ultra-long-haul aircraft. So, what was at issue?
"We were doing what they wanted us to do anyway. They were becoming worried about competition, but competition is good for the travelling public. If all three Gulf carriers were stopped from operating into the United States, where would the huge diaspora from the sub-continent (India) be able to travel?
"This is just a way to jack up fares so they can take the travelling public to the cleaners. We are operating on a level that we have to make profit. We don't get handouts from our government as people think. I, as a CEO, don't want to have handouts from my government.
China and India


Like all airlines, the Qatar boss regards China as a future growth driver. "China is a very good market, even for us. We have very high load factors. We are just on the bottom line from Chengdu and Chongqing because we are limited with flights.
"We only have three frequencies to each of these destinations, but it's a very good cargo market so we carry a lot of cargo in the belly of our airplanes. We operate to seven destinations in China, including Hong Kong. We hope China will release more slots for foreign carriers to meet the demand. Already, Cathay's hub in Hong Kong is completely saturated. There is big demand but not enough slots."
His second growth target is India although he pointed out it faced the same infrastructure problems as China. "Capacity management and air traffic management in India is not what it should be in order to release the capacity required for the growth. B
"But we are looking at these two markets for the future growth of our airline as well as the third continent, which is Africa."
"We are very robust airline. And yes, in this aggressive growth period our bottom line indicates that because we are continuously investing. Once we stop our growth of course we will see the profits will be there."
There is little doubt that growth will be met with ongoing capacity increases at Qatar. It operates 41 A320 variants, 26 A330s, four A340s, 26 A350-900s, one A350-1000 (it was launch customer of the type), 10 A380s, 50 B777s and 30 B787-8s.
The airline has ordered 50 A320neo (deliveries from 2019), 15 more A350-900s, 36 A350-1000s, seven B777-300ERs and 10 B787-8s. Additionally, it has purchase rights for 50 777-9Xs. The carrier operates a cargo fleet of A330-200Fs, B747-8Fs and B777Fs and has eight A330s and two B777 freighters on order.
Given the blockade situation, is Qatar considering delaying any deliveries? "As far as Qatar Airways is concerned all our deliveries are on schedule both for the B777s and the A350s. Regardless of the blockade or whatever happens we will keep on with our expansion," insisted Al Baker.
Interestingly, he believed restrictive cross border ownership rules would reach their use-by date at some stage. "In time, the ownership and control requirements will fade away. More and more countries realize they require an airline. Because of rules and regulations they cannot sustain it," he said.
"This will encourage investments and there will be a move. I don't know if it will be sooner or later, but sometime it will have to be abolished in order for countries that require, for their economic reasons, to have an airline. They will invite foreign carriers to establish airlines in their country."
While the rising price of fuel was a major topic of discussion at this year's IATA AGM, Al Baker said congestion was a bigger threat to airlines than the cost of oil. "Airports are congested and slots are unavailable in major markets. So it is very important for governments to start looking at investing in their infrastructure and airports," he said.
"Today, there is capacity of more than a billion passengers across the globe. You can imagine how many airports you will need to cater for many more passengers. All you can do is expand facilities to continue airline growth."
As for his chairmanship of IATA's board of governors, Al Baker intends to look not only at the best interests of airlines but also the people that have made the industry so successful.
He listed the priorities to Orient Aviation. "We are concerned, like all the CEOs of IATA, that rising fuel prices will put downward pressure on our bottom line. The only way we can mitigate that is to make sure we control our costs to cover the increase in oil prices. We have human trafficking. We have making airlines more secure. We have making sure in these very turbulent times in global politics that we are very vigilant when terrorism is affecting our industry," he said.
"We will have to find ways to reduce costs, especially when privatized airports are putting a lot of strain on airlines because of their excessive charges. We also have challenges provoked by regional conflicts. We have to ensure we mitigate all these issues to continue the upward trend in airline performance."