When AirAsia co-founder and group chief executive, Tony Fernandes, tweeted in September he planned to step down from his positions at the group's many business units, with the exception of AirAsia itself and long-haul budget arm, AirAsia X, it was assumed he was on the verge of retirement, particularly as the news was revealed less than a month after details of a major leadership reorganization at the group were unveiled. Read More »
Not quite. Fernandes will be around for a while yet. The executive changes were made, he told Orient Aviation, because he believed leadership must be refreshed. "Too many leaders overstay. If I am a good leader, when I finally retire and the company gets better, then I have done a good job," he said.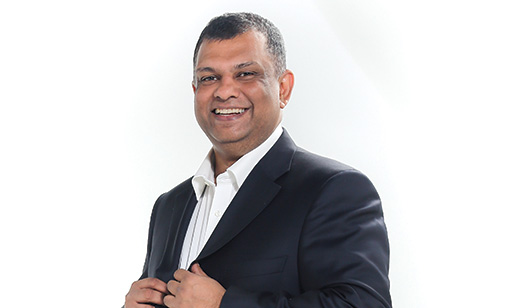 ORIENT AVIATION 2019 PERSON OF
THE YEAR AND LIFETIME
ACHIEVEMENT AWARD WINNER
TONY FERNANDES
AirAsia Group co-founder and CEO
"It's important to introduce people to their roles early on and not retire and dump everything on them without giving them the limelight or the experience. What I'm doing in the subsidiaries is giving the next in line management exposure so when I go they are ready to take on the next role."
As for his retirement, only he knows the timetable. "There are many steps of retiring," he said. "There is a plan there. There is a plan to watch more sport and QPR (English soccer team Queens Park Rangers, 55%-owned by Fernandes' Tune Group) and do some other things."
For Fernandes and the AirAsia Group, success has been hard won. Industry sceptics said Asian passengers were too status conscious to fly on an LCC. How wrong they were. Today, red liveried AirAsia jets have global as well as regional recognition as does Fernandes in, until recently, his ever-present red cap.
What was to become AirAsia began flying in late 1996 as small, Malaysian government-owned DRB-HICOM. In 2001, former music executive Fernandes and his business partner, Kamarudin Meranun purchased the airline, with its US$11 million debt, for one Ringgit, or US$0.25, through their company, Tune Air.
A year later, despite forecasts of doom from several airlines in the region, Kuala Lumpur- headquartered AirAsia was in profit. By 2003, it was flying its first international route, to Bangkok.
Expansion of the LCC's fleet and network was rapid, pioneering not only domestic LCC travel but international budget travel. In the process, AirAsia became the biggest customer of Airbus by placing huge orders for A320 and A330 series jets.
Today, in combination with its joint ventures in Thailand, Indonesia, the Philippines, India and Japan, as well as its long-haul LCC, AirAsia X, the group operates more than 200 Airbus jets and has another 353 on order.
This year the carrier began re-inventing itself. Fernandes wants the group to become an "Amazon of Travel" and a financial platform company. The group intends to utilize the vast amount of data it amasses every year from its 100 million passengers to drive digital development and expand its travel packages, e-commerce and payments systems with its BigPay app.
A digital wallet, launched in Malaysia in 2018, is being rolled out in Singapore, Indonesia, The Philippines and Thailand, with more countries to soon follow. Fernandes estimated the group's ancillary income would eventually contribute up to 70% of total company revenue.
As part of its drive to expand its business, the group has signed a strategic partnership with travel technology firm, Kiwi.com, which will sell flights on more than 100 global airlines, giving AirAsia customers access to destinations not served by the group's airlines. They include London, Dubai, Madrid and Auckland.
"We are reinventing ourselves as more than just an airline by bringing to life our vision for airasia.com to be the region's one-stop travel shop," said Fernandes. He also is looking to partner directly with airlines and companies beyond the Asia-Pacific that complement the group's airline network and travel services.
"We are in a unique position compared with other airlines," explained Fernandes. "Ryanair has talked about it and a few others have talked about it, but the beauty of what we have is a much bigger digital mindset than any other airline.
"We were at the forefront of using the internet and at the forefront of using social media. Many of our staff were not in the airline business. It is an important mindset to have. If you are not digital, it's really tough to make a transformation."
The group's second advantage, he said, is Ryanair is largely an Irish airline and easyJet dominantly an English one. AirAsia is essentially multi-national. "We are a Southeast Asian ASEAN (Association of South East Asian Nations) airline. It is recognized widely in each of the ASEAN countries and has diversity in its workforce and leadership team," he said.
"So, to make a transitional step and become an ASEAN lifestyle brand is a lot easier from where we are sitting than for any other airline. We have a huge platform. We aim to open up that platform and do much more."
In New York earlier this year Fernandes launched RedBeat Capital with venture capital firm, 500 Startups. AirAsia has contributed US$10 million to the joint venture. It will invest in digital technology related to travel, lifestyle, logistics and finance.
"One of the reasons we made the investment was because you can't survive long-haul low-cost purely on an airfare so there are lots of ancillary streams to supplement it," he said.
"The strategy involves investing in technologies that make operations more efficient and cheaper, but also increasing profits with revenue streams not as vulnerable to market fluctuations, like oil."
The transformation was not an effort to survive in the face of increasing competition, Fernandes explained. "The airline industry is a poorer return of capital because of its cyclicality. Times when it is good, there is over-capacity and also there are lots of factors beyond our control," he said.
"It's a U.S. dollar-based industry. We are subject to whatever Uncle Donald does with the dollar or subject to the oil price, which also is out of our control. Not many businesses have this cyclicality. Then there is the added competition. How do we evolve this business model to have more stable earnings, yet use these very strong aspects of the airline business to benefit us? In our case, these are very close relationships, a very strong data base and a strong brand.
"We are not doing anything dissimilar to Amazon. It started selling books, used its relationships and its data to start and build other businesses. Now, most people will hear this and say 'well, he's a dreamer, pie in the sky. Talks rubbish'. But as you know, a lot of colleagues at other airlines have been saying just that for 18 years. We are used to it. Let's see if we can implement it."
Illustrating his point, Fernandes said the world is littered with businesses that were dominant but did not adapt, including Blackberry, Nokia phones, Kodak cameras and Fuji film. "They've all disappeared and were replaced by Apple and other innovators," he said.
Some of AirAsia's joint ventures appeared to be recording recent poor results, but Fernandes disputed the view they were struggling. "That's another thing that happens in the airline industry. Accounting standards change and they changed just as we went from an owned model to a leased model so our P & L (profit and loss) was badly hit," he said.
"AirAsia always has been at the forefront of innovation and change. Change management is part of my life. My own life, going from music to airlines, exemplifies that."
Nor does the accelerated digital drive mean airlines are no longer at the core of the group's business. Expansion and new aircraft are imminent. And Fernandes is gung ho about the sustainability and eventual success of long-haul, low-cost flying.
AirAsia X's net loss increased to US$55.486 million for its third quarter. Revenue also declined, to $241 million from $253.3 million. It suffered the even deeper loss from "irrational pricing" by competitors and the implementation of the exit tax.
From September 1, Malaysia has been collecting a scaled departure tax: $1.92 per trip within ASEAN and $4.81 for flights beyond ASEAN. Premium travelers are charged $12.02 within ASEAN and $36.07 for trips outside ASEAN countries. The new taxes contributed to a $55.3 million loss at AirAsia X compared with $47.5 million a year earlier.
The underlying reasons for the LHLCC losses had nothing to do with its operations, the group said. Higher revenue was offset by hefty accounting charges on its aircraft, fuel hedge contracts and currency exchange losses.
Earnings before interest, tax, depreciation and amortisation (ebitda) were up 119%, to $165.6 million. "We are repositioning our business to the new accounting system along with restructured aircraft ownership, from owning to leasing," Fernandes said.
Group revenue has jumped 18%, to $733.3 million from a year ago, driven by a 20% increase in passengers carried, to 13 million annually. Income from non-ticket sources grew by 26%, to $164.4 million, with traditional airline ancillary revenue up 16% and non-airline ancillary revenue increasing by 72%.
"We are unfortunate in that the long-haul market is subject to ridiculously unfair competition and most of it has been State sponsored", said Fernandes. "Now that's coming to an end, we see a very positive light for AirAsia X. The model works. It obviously has higher costs because it's being funded by us and we have a couple of expensive lease planes in there. Once we sort that out with the new A330neo and competition becomes rational, it's a very powerful model."
The A330neo has begun arriving in the group fleet and two of the type have been placed with Thai AirAsia X. The group has 78 on order. Thirty 30 A321XLR (extra-long range) jets are scheduled for delivery to the group from 2023.
The trick to a sustainable long-haul, low-cost operation is a combination of the right equipment, squeezing ancillary revenues from customers and reducing costs via investment in technology, Fernandes told Orient Aviation earlier this year.
"We were the pioneers of it, but the kit was not there so we became a medium-haul carrier – six or seven hours," he said. Today, he added, profitable LHLCC operations are more practical with the A330neo and the B787.
The A330neo will enable the LHCC to add key long-haul destinations to its network. Plans to launch services to Europe and the U.S. West Coast are definitely firming up, said Fernandes, although expansion to the U.S. is on hold following the Federal Aviation Administration's (FAA) downgrade of Malaysia to a category 2 safety rating in November.
Already flying to Honolulu since 2017, the carrier had applied for fifth-freedom rights and the new destinations of Los Angeles and San Francisco before the FAA ruling came into force.
At some point, the LHLCC also wants to serve the U.S. East Coast. On the agenda for Europe are Scandinavia and several destinations in Eastern Europe, including Prague, Budapest and Vienna. Thai AirAsia X took delivery of its first two Rolls-Royce powered A330-900neo from lessor Avolon in August. As more of the type arrive at the group they will be used to expand the carrier's network to Australia, Japan and South Korea.
AirAsia X flew to London and Paris some years ago, but the routes were cancelled in 2012 because of poor economic conditions and high fuel costs.
"We have to go back to our roots of flying routes which are developing as opposed to trying to join markets where everyone else is," Fernandes said. Some of AirAsia's routes did not exist until AirAsia began serving them. "We have to adopt the same approach with AirAsia X," he said.
As for the future, he intends to continue to fight for recognition from infrastructure operators that LCCs operate a different model to full-service carriers and should be charged as such.
Except in his native Malaysia, where he has been conducting a lengthy battle with the local airport authority over charges, he believes there has been some movement on this front. "Thailand is looking at airports. Japan has built two or three. The Philippines and Indonesia are all looking at it and doing it," he said.
"There is going to be a big change as more countries realize a different airport is needed for low-cost airlines. Airport capacity will be an issue and that is when Asian countries and governments should start looking at secondary airports. For instance, Ikuraki, a Japan Air Self-Defense Force base north of Haneda, would be a fantastic airport to complement Tokyo Haneda and Tokyo Narita."
Fernandes also believes the industry should take a bigger interest in reducing the industry's carbon footprint as well as containing the damage of over-tourism. "At AirAsia we are working really hard on this. In Europe, we are beginning to see people taking trains rather than a flight. So that is a challenge. Then there are always geopolitical and national issues that come up," he said.
"From an airline point of view, most carriers are sensibly run now and have to be cash flow positive, so the competitive environment is good. Most successful airlines have decided they are either full-service or low-cost. Some of them are still playing around with low-cost subsidiaries, which I don't understand."
However long it takes for Fernandes to step down, there is no doubt he will continue to innovate and influence Asia-Pacific aviation.
China and Vietnam not on partnership radar


Fernandes is pragmatic about several failed attempts to add Vietnam to its list of joint venture LCCs. "It is an important market for us to be in. We have missed the boat for a while," he said. "We obviously were going to partner with VietJet, but we could not agree.
"For me culture is very important. Vietjet had a very different culture. It's not about money. It is about agreeing to do things in a proper manner. Then we looked at two other partners. Again, one did not work out and the second one was about different corporate ambitions.
"But Vietnam is an important market for us internationally. We still fly there from all our countries. So, we are covering Vietnam very well. I don't see anything happening in Vietnam for AirAsia for a while. Nothing is ever off the agenda, but I don't see it happening under my tenure as CEO."
He holds a similar view about China; the region's other major market. "China is kind of like India. We can be in China. How relevant would we be? If a Chinese opportunity comes along we will be there, but we are never going to be a big player in China just as we will never be a huge player in India or Japan.
"But they feed into our network and if the opportunity is right then we'll look at it. There is nothing on the doorstep. My focus is on ASEAN and building this digital company."