The unpredictable nature of the airline industry is no stranger to Virgin Australia (VA) CEO, Paul Scurrah, 52. Read More » But even for him, the first 12 months of his tenure at the helm of the group has been as challenging as it gets. In the peak season travel cycle for the region, the worst bushfires in Australia's history were raging across Australia as anti-government protests in Hong Kong, the only Asian destination VA operated with its own metal, had paralysed the Special Administrative Region.
To cap it all, the Novel Corona virus, COVID-19, struck at the heart of the region's airline networks, throwing the entire industry into crisis.
"It is," Scurrah said, "something no-one could have predicted. It has been a baptism of fire, without a doubt."
On the other hand, he was pragmatic about the situation. "There is enough evidence, if you look back over time, to tell you this [period] is not a one-off. The nature of the crisis might be different but there always are challenges and shocks thrown at the airline industry.
"You have to come into the job with your eyes wide open to that possibility. If you know it's a possibility, then you have to prepare for that scenario to happen. My focus is to make sure the airline is as resilient as it possibly can be and well prepared to deal with the shocks."
They have been shocks he could have done without. When Scurrah succeeded John Borghetti as VA's CEO 12 months ago, he was tasked with turning around a carrier that had lost around $1.3 billion in seven years and had a share price sitting at an all-time low.
Rejuvenating VA and giving its international shareholders -China's Nanshan Group and HNA Group, Singapore Airlines, Etihad Airways and Sir Richard Branson's Virgin Group- some hope of a return on their investment was a tall order.
But if experience was anything to go by, Scurrah was the man for the job. He has had years of it in the airline, travel and transport industries.
Speaking to Orient Aviation after the announcement of VA results for the first half of its current financial year, ended December 31, he said: "The first half of the financial year was the start of a period of significant change and transformation, specifically business transformation, for Virgin Australia," he said.
"Last August, we announced some of the first major steps in resetting our cost base and improving the structure of the business. These are beginning to come through. We expect momentum to continue in the second half, but we will take the full run rate of these initiatives into the beginning of fiscal year 2021 from a cost perspective."
In the past six months, he explained, VA had built an entirely new leadership team, moved to simplify the group structure and started reducing the workforce by 750.
"We're in the process of reviewing our suppliers and the associated agreements. We will continue making the important changes to our routes and our fleet. We also took back full ownership of the fast-growing Frequent Flyer program, Velocity," he said
"We now retain 100% of its strong cash flow as well as capture significant synergies. And we have done all this while we still increase revenue.
"We are still growing passenger numbers and improving the important measure of revenue per available seat kilometer (RASK). We also are delivering a great and improving customer experience, along with our on-time performance, which sees us as the most reliable major airline in the country.
"On the customer satisfaction side our score is at its highest level for four years. That's progress. I am really pleased, but there is much more to do to deliver a much lower cost base and get our business into a profitable position."
VA's interim results revealed the black ink is not yet flowing. While there was an underlying profit before tax of A$9.5 million (US$6.2 million), after tax losses were $65.7 million, nearly double the $36.2 million deficit in the same period a year ago. Despite this, VA increased revenue by $30.7 million in soft market conditions.
For Scurrah these results were not a cause for gloom, although he would not be drawn on a timetable for a return to profitability at the carrier. "I've said from the day I walked in the door the return to profitability was not an overnight proposition. We are focused on getting there as soon as we possibly can," he said.
"It is too early to say exactly when that will be, particularly with the uncertainty around. But the progress we are seeing, given the market returns to some sort of normality, indicates we can say confidently it is going to happen."
The prospects of profits are looking better as savings from its cost reduction program flow through to the balance sheet. Staff cuts and the review of supplier contracts are on track to generate a combine $81.9 million in annualized savings in the 2021 financial year.
The elimination of 750 staff jobs will be completed by the end of June. "These are difficult changes for our teams but they are necessary to improve financially," said Scurrah.
As well as biting the bullet on staff redundancies, he pushed through major strategic changes to the group, including downsizing the group's fleet and network adjustments.
One of Scurrah's first challenges not long after he took over from Borghetti was the global grounding of the 737 MAX. VA had 48 of the type on order, but luckily, none had been delivered.
Scurrah quickly delayed their arrival and upsized 15 of the orders from the MAX 8 to the MAX 10, revising its order to 25 MAX-10s and 23 MAX-8s, with first delivery scheduled for mid-2022.
He also has pulled VA out of Hong Kong, a service that had been re-instated, after an earlier suspension, before Scurrah' s arrival. The route had lost more than $85 million since its re-launch with more than $22 million of that sum in the latest first half.
He was quick to point out Hong Kong's civil unrest and latterly COVID-19 accelerated the decision to withdraw from the route, although they were not the only factors.
"It was always going to be a difficult task to succeed there, even in good times. There was the circumstance where our competitors at that end and this end - the biggest player in Australia and the biggest player in Hong Kong, Qantas Airways and Cathay Pacific Airways, respectively, were allowed to co-ordinate and use their 93% share of the market to make it very difficult for us there," he said.
"We were not happy nor did we agree with that circumstance being permitted, but that was the case."
Scurrah said he was unable to speculate about the circumstances going forward on the route, but emphasized VA would be "pretty non-emotive" about returning to Hong Kong should the circumstances change dramatically.
Next on the agenda is VA's launch to Tokyo Haneda on March 29, ahead of the Tokyo Olympics in June and July. The airline is forging a strong relationship with All Nippon Airways (ANA).
Despite the apparently worsening COVID-19 situation across the region, including Japan, for the time being at least Scurrah is confident about the launch and told Orient Aviation forward bookings had shown no sign of weakening.
"When you run an airline you have to keep a day-to-day watch on everything. You have to be prepared to make some hard and quick decisions. We can only work with the information we have at hand. We have very strong support from Tokyo and its holding," he said.
"If you compare the numbers with what we were running in Hong Kong, there is no comparison. And the circumstances also are very different. We have a very strong partner in ANA. We have reciprocal rights coming [to us] from a Frequent Flyer point of view and code-sharing. We know all these factors will help make it a successful market.
"Should those circumstances change we won't be afraid to make hard decisions. Having said that, we are very committed to the route. We believe very strongly in the Japanese market and very strongly in the prospects for the future. We will do everything we can to make sure it succeeds."
Fleet simplification has been a critical element of VA's re-engineering, particularly at its LCC, Tigerair Australia. The budget carrier operates 15 A320-200s and B737-800s. All nine A320s will be removed from the fleet by October this year. With two B737s transferred to Tigerair from VA's international short-haul operations, the LCC will operate a reduced, all-Boeing narrow-body fleet of eight of the type.
"I've been saying for some time simplifying the Tiger fleet into an all-B737 platform would bring greater cost efficiencies. I am pleased we are able to complete this transition this year on the back of Tigerair's improved financial performance," said Scurrah.
In its first half, Tigerair reported a pre-tax profit of $1.3 million compared with a loss of $4.3 million a year earlier. Scurrah said the results were in line with the rationalization of the LCC.
Tigerair schedules are being withdrawn from five domestic routes which have been loss-making or clash with VA services. Scurrah refuted the suggestion downsizing of Tigerair could lead to its disappearance.
"The low-cost carrier sector is a very important part of our business. Getting it to profitability and into the simplified model we want for it to fullfil its potential is very important. If the lines of flying are profitable and it's playing a role for the group it does not matter what the fleet size is," he said.
"We are very focused on making sure we establish it as the low-cost, simple business it is going to be and should be. This [simplification] accelerates that and sets our LCC up to be a very big and important part of our future."
Scurrah's next major fleet decision is on the wide-body front. VA operates 777ERs and A330s. Both types are beginning to show their age. The situation is under review, he said. While not being specific about replacement aircraft, clearly Boeing's 787, the new B777X or the A350 are in the frame.
"The economics of the available new generation aircraft type have seen a fundamental leap in efficiency and sustainability with less fuel burn, less carbon emissions and better customer feedback," Scurrah said.
"There's a lot to like about going down that path. We have six A330s, all leased. One of the 777s is leased and the other four owned, but we look at it as one fleet.
"We have a desire to operate one type because when you have a small number of aircraft like us its sub-scale. You have to double up on costs. It's not ideal from an airline perspective."
Internationally, it is clear Scurrah sees VA's expansion coming from partnerships, such as the one with ANA. Once the virus crisis eases he pointed out China is "incredibly well served" by Singapore Airlines (SIA).
"A large number of people still do one-stop to multiple points in China and they can do that through SIA and us. And you can fly to China one-stop with ANA. So, we have options to do that and we will continue to do that," he said.
"Singapore also provides one-stop to India and we have Etihad, which serves Europe through the Gulf, and Delta in the American market. They also have a very strong presence at Tokyo Haneda. We rely heavily on partners to serve those markets. We don't necessarily have to be there in our own right."
One intriguing aspect of Scurrah's outlook, despite the current tumbling of passenger numbers across the region, is that he continues to forecast VA's revenue will remain flat in its second half, to June 30.
His explanation: "If you look at the comparative months last year it was an incredibly soft period compared with a year earlier for a number of reasons. At the back end, (May 2019) there was the national election in Australia. The 10% revenue growth of the first half virtually disappeared in the second half," he said.
"So, it was a pretty flat comparative period. We do see a US$32.8 million to US$49.1 million hit to our previously forecast earnings as a result of COVID-19. But by taking some early capacity decisions we are seeing an increase in load factor and revenue quality that helps us in that circumstance.
"Because we are predominantly leveraged in the domestic market, where it is still incredibly safe to travel in and around Australia and where there is a very strong effort by the tourism bodies at state and federal level to promote holidays at home, we are confident we are going to be able to perform to our expectations."
Scurrah said the good part of the latest results was the group's revenue performance continues to grow and its quality to improve: two positive factors for the airline going forward.
"Revenue is not our problem. We also maintained and increased our customer satisfaction. In a period of change it is quite satisfying to have achieved that and we will continue to do that," he said.
"Our operational integrity was maintained. We are still the most reliable airline in the country. But as I have said from day one, that makes us a great airline, it does not make us a great business.
"The business side is making sure our cost base is significantly lower. We are taking more steps to make sure we have a lower cost base and a lower asset base, particularly in areas that are not making money.
"There is a lot more work underway. We are very clear on the need to make our business profitable. And we can. This is a belief I am equally as sure of today as I was when I walked in the door."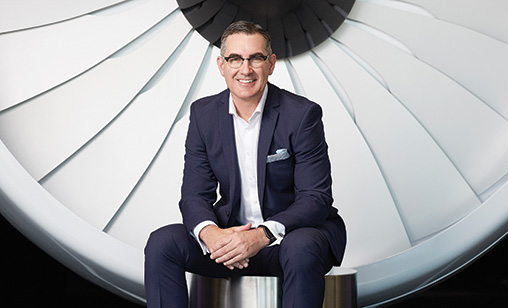 Virgin Australia's reformer


When Virgin Australia was searching for a new CEO to succeed retiring John Borghetti early last year there were plenty of strong candidates vying for the job.
With more than 20 years of experience in transport, logistics, travel and aviation, Paul Scurrah, then head of ports operator, DP World Australia, was the unanimous choice of the board.
Before DP World, Scurrah's career had included being a founding director of Australian regional carrier, REX, roles at Australian Airlines, Ansett Airlines and Qantas Airways and senior leadership positions at Aurizon, Flight Centre, Tourism Queensland and as CEO of Queensland Rail.
"The board received enormous interest in the role, both locally and internationally. Paul's highly relevant transport and logistics expertise and strong commercial background made him the ideal candidate to consolidate the Group's achievements and continue to build momentum into the future," said VA in a statement when it announced his appointment in March last year.
Scurrah is the son of a merchant seaman who later was a wharfie in Melbourne. His mother worked to keep the family fed and educated. "It's fair to say we have very strong working class roots," he said.
These days, as he strives for sustained profitability at VA, he lives in Brisbane with his wife and two daughters and divides his time between VA's operational headquarters in Brisbane and the airline's corporate headquarters in Sydney.
When he's not in the hot seat – and time off is hard to come by these days – skiing is his thing. "When you have an airline coat on it is very hard to take time off, but I'm a skiing fanatic. Every year I take a skiing holiday at the Whistler resort in Canada. It's my happy place, no doubt about it," he said.
Scurrah serves on the board of the Gold Coast Suns Australian rules football club, which plays in the Australian Football League. VA is a longtime official airline sponsor of the AFL.
"It's a labour of love. We have not been that successful to date, but it provides a nice distraction. It keeps me very busy and then my daughters are always a huge focus of mine," he said.