IATA predicts U-shaped recovery from COVID-19 and fears recession
Any fight for survival needs a champion. While individual airlines are mounting their own assaults against COVID-19, on the global stage the International Air Transport Association (IATA) is leading the charge. Associate editor and chief correspondent, Tom Ballantyne, spoke exclusively to the association's director general, Alexandre de Juniac, about his views on the outcome of the pandemic crisis.
Usually interviews are conducted face-to-face. Read More » Not this time, for obvious reasons. Because of the global COVID-19 virus and lockdowns on travel, the International Air Transport Association's Alexandre de Juniac last month explained the airline body's trajectory for recovery from one side of the world in Geneva, Switzerland to Orient Aviation in Sydney, Australia.
And there was no doubt, whatever the challenges and pressure he is under, that the former top-ranking French government bureaucrat and long-time airline aviation leader is determined to see the industry back where it belongs.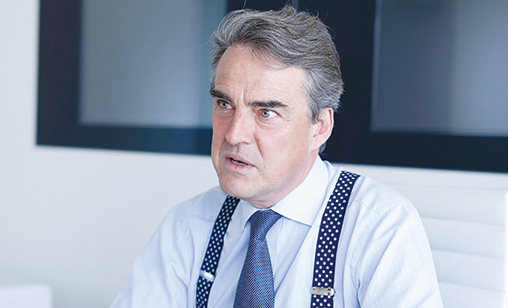 'To give you two key challenges. How are we going to organize, co-ordinate or whatever you call it, the lifting by governments of all the barriers they have put in place on their borders? The co-ordination of that is absolutely critical. If it is not coordinated, it will be a mess. We have to organize a process that is coordinated and safe, informing people that travelling is not dangerous anymore.
The second subject is what type of procedures do we suggest or put in place to guarantee flying is safe in terms of a pandemic? And of course, we have to do that in conjunction with governments, health authorities and airports. So, we will try to organize regional meetings to talk about the risks and appropriate measures to convince governments and travelers flying is again safe'
Alexandre de Juniac
IATA director general and CEO
"For sure, it's an unprecedented crisis that has led to almost a stop in air traffic. It's happened before, probably only in wartime, when we have seen something similar. And that was a long time ago. Air traffic was not at the same level it is today," he told Orient Aviation at the turn of the month.
"It is heartbreaking," he said. But he declared IATA was "24/7 prioritized" to save the industry. "I think we are one of the only industries to have the firepower and this mobilization at the service of everybody. IATA is totally committed to that. We do not sleep a lot I can tell you," he said.
De Juniac, who took charge of IATA in 2016 – he was chairman and chief executive of Air France and then chairman and chief executive of Air France-KLM before he moved to the airline association – said current events revealed a situation he had believed for years.
"This industry is economically and financially too weak. We are not comfortable enough. We have weak balance sheets. On the other hand, it means everybody is now conscious of the fact, including governments, that aviation is a key industry for this planet, for the economy and even for this fight against the coronavirus. Without aviation the world would probably be in much worse shape," he said.
At IATA it was all hands on deck, said de Juniac. Staff around the world, in Geneva, Montreal, Miami, Singapore and elsewhere, are working from home. Steps have been taken to protect them, such as wearing masks. The association is paying for any hospitalization if and when it is required.
Like its member airlines, IATA has put together "a pretty tough" cost-cutting plan. "We are seeing a big decline in our revenues. It is a cost-cutting plan that is pretty harsh, including a pay cut for executives and myself. It means roughly 100 people have agreed to cut their salaries," he said.
There are regular video conferences with the 29 international airline CEOs who make up IATA's Board of Governors. Asia-Pacific members include All Nippon Airways (ANA), Cathay Pacific Airways, China Eastern Airlines, China Southern Airlines, Japan Airlines, Korean Air, Qantas and Singapore Airlines. They don't take up too much time [of members] because they are totally overwhelmed by the emergency, de Juniac said.
"They want us to lobby urgently on every potential subject that will give them some relief on the balance sheet, on everything. Regulatory issues. Tax issues. Charges issues. Everything we do they are interested in," he said.
IATA has moved into crisis mode. Its executive team meets every day, again by video, "working to look at everything everywhere in the world. Every day we have an assessment of the situation. What has to be done. What is new. What still is to be organized".
Secondly, all IATA resources are focused on helping the industry cope with the crisis. "It is not only the executives, but everybody is focused on supporting our members and the industry, mainly through lobbying, but also by managing our key functions such as the financial systems we provide and run on behalf of the industry," de Junaic said.
"We have put together a peer group to plan for the re-start and to develop a re-start plan, which is a tricky issue. There is a lot to do and there are big challenges in front of us. We are focused on helping members and preparing for the future. That is what we are doing."
While continuing to lobby governments for emergency assistance, planning for a return to operations is just as crucial, he said. Given COVID-19 is showing no signs of going away soon, particularly in the U.S. and Europe, de Juniac conceded there was great uncertainty about the duration of the crisis.
"Our assumption and the figures we have given on loss of revenue, cash burn etc. are made on the basis the recovery will have the shape of a U curve and not a V curve. It will not be a drop and then a strong and quick result," he said.
"The reasoning is you have to consider the coronavirus and how it recovers plus the effect of the recession, a recession that will obviously be there. Then you have the addition of uncertainty that is appearing more and more.
"People are fearful there will be additional waves of the virus. I have to say that for the moment this has not been included in our figures, but it could trigger more collapses and affect not only the economy but the airline industry.
"If we have to close again in six months or nine months and all the borders are in the same situation, we would have to go back to governments to ask for additional funds."
Of one fact de Juniac is certain. "There will be a world after COVID-19. It will be a bit different from the world before. Does that mean people will use teleconferencing instead of flying? I don't think so. Nothing replaces human contact or tourism or going on site," he said.
"In similar past crises we have seen a strong recovery of the travel industry and recovered demand for business and leisure travel. It will come back. It will take time, but it will come back."