Region's revenue rout: Asia-Pacific airlines are the biggest losers from COVID-19 pandemic
Everyone knew it would be a bad year. But forecasts Asia-Pacific airlines would lose US$29 billion in 2020 from COVID-19 - the largest profit collapse of any region this year – are falling way short of the mark reports associate editor and chief correspondent, Tom Ballantyne.
The financial disaster facing Asia-Pacific airlines is becoming clearer as the region's carriers report their latest results in the first factual indication of the negative impact COVID-19 is having on the region's commercial aviation industry. Read More » And it is feared the situation will worsen before it improves.
A very public humiliation of a once great carrier is being played out in Thailand. Thai Airways International (THAI) is fighting to survive as its losses mount. It is in the midst of a last ditch legal battle to win approval for its latest rescue plan from the country's Central Bankruptcy Court. Initial hearings took place in August after the airline announced an interim loss of US$898.3 million to June 30.
But THAI, which was in serious trouble before the pandemic struck, is no solitary casualty. Most of the region's carriers are reporting record or near record losses and issuing profit warnings for the months ahead.
Amongst the biggest losers is the Cathay Pacific Group, a company without a domestic market to prop up its regional and international networks. Already battered by more than a year of pro-democracy protests in fragile Hong Kong, it reported an interim $1.27 billion loss to June 30. "The first six months of 2020 were the most challenging the Cathay Pacific Group has faced in its more than 70-year history," said airline group chairman, Patrick Healy. "The global health crisis has decimated the travel industry and the future remains highly uncertain, with most analysts suggesting it will take years to recover to pre-crisis levels," he said.
Another regional leader without a domestic market is the Singapore Airlines Group (SIA). It lost $816 million in its second quarter, to June 30, on the back of a 99.6% coronavirus induced decline in passengers.
The severity of the financial collapse for the region's carriers was emphasised by the Qantas Group full-year results, announced on August 20. Its bottom line swung to a $1.4 billion loss for the 12 months to June 30. "This is clearly not a standard set of results for the Qantas Group," said group CEO, Alan Joyce. "It's been shaped by extraordinary events that have made for the worst trading conditions in our 100-year history."
After its first half, ended December 31, 2019, the group had been on track to report a profit of more than $720 million. Only months later, its A380 fleet is being parked in the Californian desert for at least the next three years and the group has paid $460.5 million to 6,000 staff it has made redundant - 20% of its workforce. "The impact of COVID-19 on all airlines is clear. It's devastating and it will be a question of survival for many," said Joyce. Qantas' revenue between April and the end of June fell 82%. At press time, Joyce revealed plans to eliminate the jobs of another 2,400 employees, amalgamate the domestic and international divisions of the group and outsource airport ground handling services across its Australian network.
Japan's two international airlines, All Nippon Airways (ANA) and Japan Airlines (JAL), have fared just as badly as their regional rivals in the industry's bloodbath. ANA recorded a quarterly loss of $1.04 billion to June 30.
ANA HOLDINGS INC. chief financial officer, Ichiro Fukuzawa, said last month the airline group had attempted to cut costs and take other measures to ease the damage but "passenger demand for both international and domestic flights declined significantly due to worldwide government travel restrictions and the declaration of a State of Emergency by the Japanese government".
"While we aggressively worked to compensate for lost revenue by catering to the increased demand for international cargo transportation, we were unable to offset the unprecedented impact of COVID-19 and ended with a large quarterly loss," he said in a statement.
ANA has not issued a profit forecast due to high uncertainty about the impact of the pandemic on its finances. Rival JAL, similarly hit by COVID-19, has posted a net loss of $887.8 million for the April to June quarter. Revenue has declined 78.1% from a year earlier.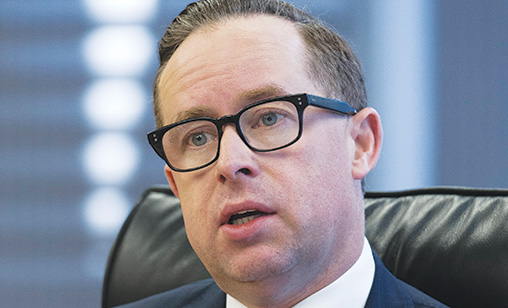 'To put it simply, we're an airline that can't really fly to many places – at least for now. The impact of that is clear. COVID-19 punched a $2.9 billion hole in our revenue and an $860 million hole in our underlying profit in what would otherwise have been another very strong result'
Alan Joyce
Qantas Group CEO
In China, the original source of the pandemic, domestic traffic has recovered better than elsewhere, but the big three airline groups - Air China, China Southern Airlines (CSA) and China Eastern Airlines (CEA) – have issued profit warnings ahead of their results. For example, CSA said domestic capacity was down only 20.15% in June, but regional capacity had declined by 93.5% and international by 95.2%. Air China and CEA are experiencing similar downward capacity trajectories.
Amidst the industry's carnage, a handful of airline balance sheets are in the black. Both of South Korea's carriers, Korean Air (KAL) and Asiana Airlines, posted operating profits in the second quarter due to the strong performances of their cargo divisions.
Airlines with substantial air freight availability are offsetting passenger declines with demand for worldwide transport of medical equipment needed as the spread of COVID-19 accelerates in many regions. KAL has reported an operating profit of $125.2 million and a net profit of $135.3 million. Asiana's operating profit topped $80 million. It may not seem much in strict numbers, but in the circumstances the Korean carriers' results were market beating figures. A report from Korea Investment & Securities said KAL is on course to be the only airline in the world whose debt-equity ratio will drop this year.
KAL is touting its surprise earnings are a result of Walter Cho's focus on the airline's cargo business and a "One Team" strategy to survive the pandemic. The KAL CEO is credited with the idea to "utilize the cargo compartment of passenger jets and respond to the fluctuating demand" to reduce costs and diversify the supply line.
As a result, the airline's freight tonne kilometres, which measure freight traffic, rose by more than 10% in the first half of the year and 17% in the second quarter alone. It led to a 95% year-on-year increase in cargo revenue to a little more than $1 billion in the second quarter.
KAL has a cargo fleet of 23 aircraft. It has been using overhead bins and has installed cargo seat bags on its planes to raise utilization rates. It plans to remove seats from long-haul aircraft to carry even more cargo later in the year.
Taiwan is another airline market bucking the loss-making trend, again thanks to the contribution of air freight to the coffers of China Airlines (CAL) and EVA Air. CAL delivered a net profit of $83.9 million in the April to June quarter. EVA had an operating profit of $6.3 million, but still reported a small net loss of $20.85 million.
Elsewhere the red ink is continuing to flow. Garuda Indonesia booked a net loss of $120 million in its first quarter, a stark contrast to the profitability it achieved last year. It announced a 30% year-on-year slump in revenue, to $768.12 million, from $1.1 billion in the same period 12 months ago.
"This industry is indeed a very tough industry. We are talking about a single digit margin. So, when a disruption happens, the implications for our bottom line, cash-wise, are immediate and drastic," said Garuda president director, Irfan Setiaputra.
Like many other carriers, Vietnam Airlines (VNA) is seeking government support to ease pressure on its cash liquidity. Chief executive, Dương Trí Thành, said VNA may face a liquidity shortage from September and a drop of $2.16 billion in revenue for the year. After a record profit in 2019 and positive profit growth for the last decade, he forecast the airline may incur a net loss of $560 million in 2020.
The region's LCC sector has not escaped the crisis. Dependant on high load factors and quick turnarounds on both domestic and regional routes, their networks and utilization rates are in tatters.
Malaysia's AirAsia Group, the region's biggest LCC operator, posted a net loss of $238.2 million in the three months to June 30 after sales plunged 96% to $28.5 million. Group CEO, Tony Fernandes, said the current period is "by far the toughest challenge" the group has faced.
"Every crisis is an obstacle to overcome. We have restructured the group into a leaner and tighter ship. We are positive about the strides we have made in bringing down cash expenses by at least 50% this year. This will make us even stronger as the leading low-cost carrier in the region," he said.
In the Philippines, the country's biggest airline, LCC Cebu Pacific, suffered a net loss of $188.3 million in its first half compared with a profit of $147.2 million in the same months a year ago.
South Korean LCC, Jin Air, a subsidiary of KAL, reported an operating loss of $50.3 million in the second quarter, nearly doubling losses of a year ago. The country's biggest LCC, Jeju Air, has announced a revised second quarter earnings report. It showed the company posted larger net losses than initially estimated due to the unsuccessful acquisition of debt-ridden Eastar Jet. Its net loss in the April-June quarter was $84.4 million.
Overall, the picture for Asia-Pacific airlines is grim. Carriers have hundreds of planes parked at their home bases and at aircraft parks in California and Australia. Most have been in discussions with Boeing and Airbus about postponement or even cancellation of scheduled deliveries.
Boeing reported another 43 cancelled orders for the 737MAX in July and said it had not secured new orders for any aircraft in the month. It has been reported airline and lessor customers have cancelled 398 MAXs since the type was grounded in March 2019 following two deadly crashes. The U.S. aerospace manufacturer delivered four aircraft in July compared with 19 in the same month last year.
The International Air Transport Association (IATA) forecast mid-year losses would reduce significantly in 2021 as recovery took flight. It is a prediction now considered optimistic as governments maintain strict bans on international air travel, keep borders closed between nations and states and insist on extended quarantine periods for air travellers.
In June, IATA director general and CEO, Alexandre de Juniac, told media: "Provided there is not another more damaging wave of COVID-19, the worst of the collapse in traffic is likely behind us." Unfortunately, fears that a second and even a third wave of COVID-19 could threaten the Asia-Pacific industry's revival have come to pass in many countries, making that statement redundant.
In its Asia-Pacific Regional Briefing in July, IATA said the region's airline revenue passenger kilometres had contracted 83% year-on-year against an industry-wide contraction of 94%. It represented the most resilient outcome amongst all regions, IATA said. It described the numbers as "tentative signs" of recovery.