Now into his 14th year as CEO of Qantas Group, Alan Joyce, made it clear to Orient Aviation last month he is not going anywhere anytime soon. Read More » Last year, after the airline raised US$2.2 billion in additional debt and equity to boost survival funds and formulated a three-year restructure, he assured his board he would be staying the course. "One of the important factors when we raised the equity was would I be here to see the plan through," Joyce said.
"I did commit to finishing the three-year plan and there are another two and a half years to go to do that," he said.
It is no secret the 54-year-old Irish-born Australian is passionate about Qantas. "I've always said the last thing I want to do is leave it when it is in its biggest moment of need in its 100-year history. It is important to have stability in the management. The management team is very committed. It's an amazing group of individuals. There are plenty of successors. There are a number of people who could easily do the job, but to get Qantas through this, this was the right thing to do for the next few years. For me, that is the most important thing."
Almost 18 months after delivering a profit of US$650 million in the 12 months to June 30, 2019, Qantas finances are in the red to the tune of $1.5 billion. In its latest six months, to December 31, 2020, losses amounted to an additional $1 billion after revenue plunged by $5.3 billion.
The group's approach is "no surrender". "When it was first reported this potential virus was coming out of Wuhan, I remember ringing the chairman - that was in January last year - and saying this is a risk. It could be like SARS [in 2003-2004]. Early on, the airline's planning people were considering the impact of international borders and Australia's own state borders being closed," he said.
Joyce used one of his favourite quotes, from U.S. president, Theodore Roosevelt, to message his network planning staff: "the best thing you can do is the right thing, the next best thing is the wrong thing and the worst thing you can do is nothing".
"At an early stage, we thought we would not have international borders open until the middle of this year (2021). A lot of people said that was very pessimistic. It turned out to be optimistic. We had a view of what would happen on domestic with re-opening. We maintained this philosophy of hope for the best and plan for the worst while maintaining the capability to ratchet up and also pull back if it went backwards. The forecasting of crisis management was really, really well done. We never picked the timeframe, but we picked everything that did occur."
It was, he agreed, a nightmare for his schedulers as domestic Australian state borders opened and closed and international border restrictions increased. "We are up to version 199 of the internal document that goes around with all of the border restrictions," he said in March. "It has changed that many times. The dynamic is such we have produced a new schedule every week – at least.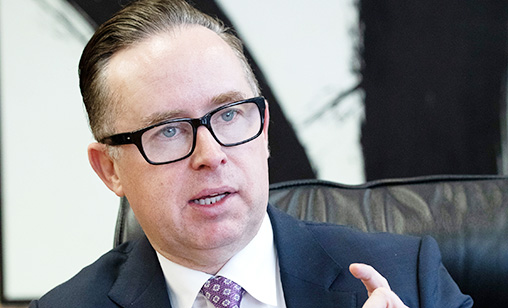 "Some 30% of head office has had to leave the organization as well as 30% of our total staff. There were people I'd known for 20 years that worked in here and had worked for the company for 20-30 or 40 years," Joyce told Orient Aviation.
"We had a chat before they left and they were very positive. They knew the company had no choice. But that was heartbreaking because before this we were making record profits. We were talking about Project Sunrise. We were expanding. We were recruiting. COVID-19 just knocked the company for six.
"Nobody's fault. Not the individuals. Not the company's fault. We ended up having to make some terrible decisions about people who had been with the company for a very, very long time.
"At one stage, more than 5,500 people were placed with other companies. Woolworths was phenomenal. At one time, they took close to 2,000 people. After hotel quarantine issues [were tightened] governments started employing Qantas people to work with them because they follow safety rules very precisely. We've had people on track and tracing and in aged health care."
"When I did scheduling, back in my old Aer Lingus days and in the early days of Qantas, there were two schedules a year – northern summer and northern winter. Now, these guys are doing it that fast. It's been an amazing exercise creating a schedule every week and trying options. If they don't work, move on. They are doing that very effectively I would say."
At this time, the primary focus is returning domestic flying to pre-pandemic levels. The lowest point for the group was the three months to last September 30 when domestic capacity declined to 20%. At year end, it had climbed to 40% and was 60% by the end of last month. A national government package that is subsidizing 800,000 domestic air fares has stimulated demand. The newly negotiated air travel bubble between Australia and New Zealand has helped. Demand is now above 90%.
Reactivation of parked aircraft is underway. In March, 11 B737s were parked. Joyce said eight of them would be flying by the end of the month with the remaining three planned to return to service by June 30. "We have all of the domestic A330-300s flying. We are doing some freighters with them internationally. We are doing some flights into Asia to carry freight back but they are all back. The only aircraft on the ground will be 12 A380s, which are in the U.S., and the 13 A330-200s which are mainly international aircraft. They are parked around Australia," Joyce said.
Unlike many airlines, Qantas will not abandon its A380s. "We are not going to ditch them. There is an opportunity to bring them back. Initially, we think the B787s and the A330s will re-establish the network. So everywhere we flew an A380 we intend to fly 787s, for example Sydney-Dallas and Sydney-Los Angeles. We have enough 787s to keep the network going," Joyce said.
"It is half the size. Volume is going to take a while. IATA (International Air Transport Association) is saying it will take to 2024 to return to 2019 levels. Our planning assumes we start activating the aircraft (A380s) from the end of 2023, in November and December. We have every intention of bringing them back."
Joyce is looking for fleet opportunities. The group's domestic B737s, B717s and Fokker F100s will need to be replaced in the next decade or so. "It is a good time for us to do a tendering process. It's a good cheap time. There's a lot of aircraft available and there are not many people thinking about ordering aircraft. It is a long-term fleet renewal opportunity for us," he said.
"We have a large number of neos on order for Jetstar and the potential to expand that is one option. The potential of the MAX is another option. There also is the potential of Embraers and the A220. There is a range of aircraft.
"The Embraer E195 could replace the B717 and F100s. Also there is the possibility of Boeing if it was to commit to the NMA (New Midsize Airplane). It could be a possibility in the mix as well. It is going to be a great aircraft but they (Boeing) probably have a lot of other issues they have to sort out."
Qantas chose to park aircraft in the Mojave Desert because it is only a couple of hours drive from the group's big heavy maintenance base in Los Angeles. "We have an A380 hangar there with two of the aircraft sitting in LA and 10 in the Mojave Desert. These two are ready for maintenance if we need them. The engineers are going out every day or every other day to attend to the aircraft," Joyce said.
A project on the backburner but not forgotten is Project Sunrise. "When international borders open we will be revisiting that," Joyce said. "In March last year, we were two weeks away from ordering the aircraft. We had a deal with Airbus on the A350-1000. We had a deal with the pilots. If anything, the business case is potentially stronger because we see a lot of demand for direct flying.
"At the moment, the Perth-London flight, post the end of October, is the most searched flight, the flight most people are interested in. People will want to fly direct without going through transit.
"We have to build into the case a step down in business traffic for a while. People will be using Zoom and are going to use other ways to avoid those trips. We are balancing the increase in demand with the drop in business demand potential because of the technology.
"After every crisis there has been a drop in business demand. It eventually comes back. The questions are how big will it be and how long will it take to return?"
Freight has been an important contributor to the group's survival. It has 15 dedicated freighters operating domestically, carrying cargo for organizations such as Australia Post, TNT and Toll. It has two 747-8 freighters on wet lease from Atlas Air that operate between Australia, China and North America.
Qantas has equipped 50% of its A380 fleet with new seats. One of the type is a new aircraft flown directly from Dresden to park up in the U.S. It is in the Mojave Desert with new seats no-one has sat on.
"We have the kits for a large number of the other aircraft. We have paid for the seats and the retrofit. We have spent a lot of money on them. They are written down to about $400 million for all 12 of them. They only have to generate cash because the depreciation will be pretty low.
"We think the demand is there. They will generate cash and the demand will eventually come back to 2019 levels."
"We have kept that going all the way through COVID. The yields on that are really good as all freighter yields are. There is no belly hold space. It is why freight has been making so much money," Joyce said.
Qantas has been participating in the International Freight Assistance Mechanism; a targeted support measure put in place by the Australian Government to keep global air links open in response to the pandemic's impact. It uses freighters and passenger aircraft (carrying freight only) to fly to places such as Tokyo and Hong Kong.
"We still think there are opportunities in the freight market. There has been a huge move to on line. We believe it is a step change. We are converting A321s to freighters. We have one done and the second one is coming. We have more of them that we will do to meet demand, particularly domestically," Joyce said.
Two other businesses continue to generate cash for the group. The loyalty scheme has "dramatically helped us", said Joyce. Its results were only down 10% during the latest period, generating $310 million in cash for the company. The Fly-in-Fly-Out business – transporting workers to and from remote operations in outback Australia – is booming. "If anything, we have more fly-in-fly-out during this period," Joyce said.
As for the future, Joyce is confident international flying will begin from late October and the airline will emerge stronger from the pandemic. "Qantas will come out of this. We will have repairs to do because we have borrowed A$2.8 billion (US$2.2 billion). We have a lot of debt. Most airlines in the world have, but relatively we will emerge from this stronger than most airlines around the globe," he said.
"We are one of only eight investment grade airlines left. We have the ability to continue to borrow if needed. We are in a situation, because of the great job of the management of ours here, that has our domestic network nearly back to normal. It is generating cash flows. We have said to the market our expectation is the quarter we are going into (April-June) is when we will start repairing the balance sheet.
"That's probably earlier than most airlines. We are no longer generating negative cash flows and this is after having made 8,500 people redundant and spending a billion dollars on restructuring. With the restructuring and recovery programs we have given ourselves the best chance of a rapid recovery so we can start affording new aircraft, growth like Project Sunrise and domestic fleet renewal."
Strategically, Joyce believed Qantas would be in a stronger domestic position, with a market share of more than 70%, as a result of rival, Virgin Australia, scaling back operations. Last December, the Qantas Group claimed 74% of the domestic aviation market, a significant increase over its pre-COVID-19 share of 60%.
"We have seen a huge amount of movement of corporate accounts to Qantas. In the last six months, 20 corporate accounts have moved across [to us]. With Tiger (Virgin's low-cost carrier) disappearing, the opportunity is there for Jetstar to grow in the price sensitive segment. Jetstar will have a significant cost base advantage over Virgin. Domestic will be at least the size we were going into COVID and that is our expectation coming out of this," he said.
As for another domestic irritant, the arrival on local mainline routes of jet aircraft at regional carrier, REX (Regional Express), Joyce is unperturbed. "REX to us, in some ways, is irrelevant. It is more of an issue for Virgin because they are competing in the same space," he said.
REX has been complaining to the Australian Competition and Consumer Commission (ACCC) about Qantas launching its regional arm, QantasLink, onto its routes. "Of course we are going to fly our aircraft on routes where there is demand and the big increase in demand is on intrastate where people are confident of travelling. This happened to be the markets we were flying QantasLink on," he said.
"Of the 30 new routes we came on, only eight of them were REX routes. They created a lot of noise about it. They threatened to pull off a whole series of routes, five of them, four of which we don't operate on and one of them we have been flying since 2017. They're full of hot air."
Internationally, like every airline, Qantas will be smaller, Joyce predicted. "The swing factor is the A380 capacity. We have an intention to bring that back but for now we are coping with it like after every crisis: September 11, SARS, the GFC (Global Financial Crisis). Demand takes a dive and it takes a few years to recover," he said.
"When we see demand come back we will activate the A380 and use them. They are very cash generating aircraft and a good aircraft to reactivate. Then we have growth on top of that. It will be Sunrise, which will happen post 2024."
Qantas has a number of targets for 2024 for investors, employees and stakeholders. "We think we can get our domestic margin for Jetstar to over 20%, for Qantas to 18%. We could get international to recover its cost of capital. International is never going to be as good as domestic, but we are targeting above 10% for the international business," he said.
"Loyalty can get to earnings from A$500 million to A$600 million (US$386 million to US$463 million) which is big growth from where it was before COVID.
"With digitalization the opportunities offered by people using digital applications going forward is enormous. There is a huge incentive to get there. It will allow us, and afford us, to do projects like Sunrise, replace fleet and start returning money to shareholders."