Cockpit training adapts for post-pandemic world
Not so long ago, headlines warned airlines would suffer critical shortages of pilots and engineers in an era of booming air travel – and then came COVID-19. Thousands of highly trained aviation personnel now exist in a professional limbo of furloughs, reduced hours and in many cases, redundancy. What is the impact of the pandemic on aviation training? Associate editor and chief correspondent, Tom Ballantyne, reports.
Before the airline world was hit by the worst crisis in its history U.S. OEM, Boeing, forecast the commercial aviation industry would require an additional 804,000 pilots worldwide by 2038. Read More » Demand would be the greatest in the Asia-Pacific it said, where the region's airlines would need 266,000 new cockpit crew in the forecast period.
Flight academies around the world, and particularly in the Asia-Pacific, were tapping into the huge forecast market for pilots as recently as late 2019. Qantas Group was setting up its own training academies and others, like Singapore Airlines, Korean Air and All Nippon Airways were expanding their in-house training as they took delivery of large numbers of airplanes.
Today, one analysis has reported just 43% of the world's pilots are still flying for a living. With around 70% of the global airline fleet grounded, thousands of flight crew have been stood down or retrenched and some will never return to commerical aviation. The danger, warn aviation insiders, is critical talent, whether pilots, engineers or other specialists, will have been lost to the industry.
For an extremely sophisticated technical industry, it is a threat that cannot be ignored.
Aviation training sector leaders, however, point out no one should lose sight of the long game and that recovery will eventually come. And even if training demand has fallen away during the pandemic, the industry must train for the future.
Alpha Aviation founder, Bhanu Choudhrie, with facilities in the Philippines and the UAE, said in a post-COVID-19 reality, pilot training facilities are just as at risk as airlines. "We are likely to see a consolidation of the sector with only those with strong cash reserves outlasting the pandemic," he said.
Airlines must rethink their pilot training strategies, which could include outsourcing and decentralizing , to streamline and managing costs. "At the same time, pilot training providers must be more flexible with their price offerings and recognize airlines need to manage their overheads," he said.
CAE Group president, Civil Aviation Training Solutions, Nick Leontidis, said despite the short-term decline in active pilots, analysis showed the civil aviation industry will still require more than 260,000 new pilots in the next decade. "As air travel resumes progressively over the next several years, the industry will experience upward mandatory retirement and attrition rates," he said.
"In fact, these combined challenges are expected to drive a demand for about 27,000 new pilots as of the end of 2021 "The fundamental factors influencing pilot demand before COVID-19 remain unchanged," he said.
"As the industry emerges from the pandemic, CAE will continue to shape the future of pilot training alongside the global aviation community. We will be joining forces with airlines, operators, authorities and aircraft manufacturers to ensure the highest level of safety and security of air travel. With this, we hope to arm the industry with the insights to support the global aviation community to understand, rethink and learn how to build and grow the supply of highly qualified pilots."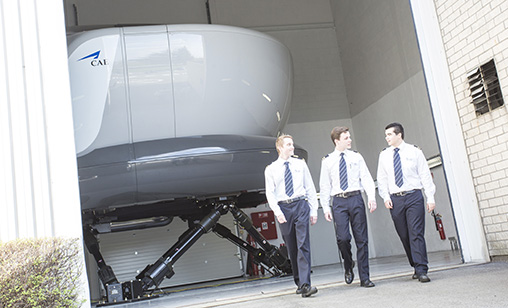 The extent of the downturn in pilot training has been difficult to assess given most of the focus has been on how badly business is for airlines. But FlightLogger, a Denmark-based company that provides software to training facilities globally, said looking at individual academies, it knows for a fact some have lost as much as 40% to 60% of their activities, while others have hardly been affected by the pandemic. Its findings are based on data collected from more than 45,000 users in more than 110 ab initio pilot academies worldwide.
"With live data from currently 111 variously sized pilot academies across 40 countries worldwide, we have been following the development of pilot academy training activities closely for several years – and with increased interest during this last year. We see some very clear tendencies we would like to share with the industry to throw light on how the pilot training industry is actually coping with the crisis," wrote FlightLogger.
"A very interesting statistic to examine is the average number of active pilot students per pilot academy. The average number of active students in academies managed with FlightLogger has been steadily growing, in fact almost doubling from 2016 to March 2020. In March, when COVID-19 hit worldwide, training activities took a severe dive, a direct effect of entire countries being completely or partly closed down. In April last year, the worst month statistically, activities declined by approximately 60% of the level we saw before the pandemic outbreak.
"However, already from May, our data started to show a gradual recovery, which has sustained until September, where the average number of active students per academy seems to have stabilized. Based on these statistics, the average pilot academy is currently back at approximately 94% of the pre-pandemic activity levels."
Globally, the picture is extremely mixed. In India, six companies have won bids to build flying schools at five Airport Authority of India (AAI) airports: Belagavi, Jalgaon, Kalaburagi, Khajuraho and Lilabari. Fourteen bids were submitted and the nine winners were Samvardhane Technologies, SkyNex Aero, Asia Pacific Flight Academy (GMR group), JetServe Aviation group, Red Bird Flight Training Academy & Chimes Aviation.
In Australia, which is a major centre for flight training attracting students from across the region, it is a completely different story. At least two schools, Soar Aviation and China Southern West Australian Flying College, have called in receivers. Others are struggling. Flight Training Adelaide reported it had let 25% of its staff go and only 36 of its 72 aircraft were operating. CAE Oxford Aviation Academy in Melbourne reduced its headcount from 165 to 85, including a reduction in flight instructors from 70 to 34. Its base in Tamworth northwest of Sydney, has been closed.
Queensland's Qantas' pilot Academy in Toowoomba, is continuing to operate, but applications from prospective students has fallen by 40% during the pandemic. Plans by Qantas Group to open a second academy in rural NSW, are on hold.
Choudhrie said: "There will need to be more reliance on e-learning in the initial cadet training, and subsequent simulator training. The industry is equipped to make these changes but dynamism from regulators is imperative."
Solving impending shortages requires a variety of solutions, and one not to be overlooked is creating a clearer path for more women to become pilots. "Just 5% of the world's 290,000 commercial pilots flying today are women. For every twenty flights taken, just one of them will be piloted by a woman. If we are to make up the future shortfall in the sector, finding a way to shift that percentage is essential," Choudhrie said.