Etihad group recovery derailed by virus outbreak
Abu Dhabi's Etihad Airways significantly reduced its losses last year, but the airline group still has a long journey to profit. Read More » It reported a deficit in 2019 of US$870 million compared with $1.28 billion in 2018, a result the company credited to reduced operating costs.
Last November, the carrier said it aimed to return to profit in 2023, a forecast now in doubt as COVID-19 spreads to Europe, routes critical to Etihad's hub transit traffic.
Etihad had a fleet of 101 jets, 95 passenger aircraft and six cargo freighters at the end of 2019 compared with 106 airplanes in December 2018. The airline group plans to sell 22 A330s and 16 777-300ERs to private equity firm, KKR, and Altavair AirFinance, for $1 billion.
"There's still some way to go, but progress was made in 2019. Cumulatively since 2017, it has instilled in us a renewed vigour and determination to push ahead and implement the changes needed to continue this positive trajectory," said Etihad Aviation Group CEO, Tony Douglas.
"Operating costs were reduced significantly and yields and load factors increased despite passenger revenue being down due to network optimization."
Douglas said the lower costs would offset "pressures faced by the business" and give Etihad headroom to invest in technology and sustainability initiatives. The Abu Dhabi-based airline group launched its turnaround strategy in 2017 after it accrued billion dollar losses from investments in international airlines under the leadership of James Hogan, who was forced out of the group as a result of the failed strategy.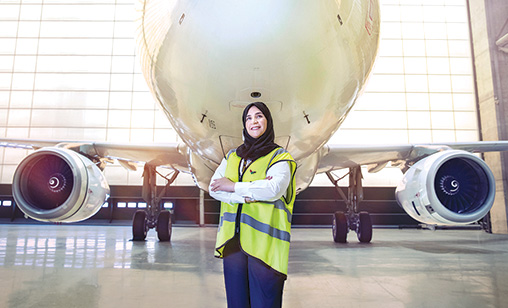 Etihad Airways signs IATA pledge for gender equality


Etihad Airways is the first Gulf carrier to pledge to increase its female staff by 2025 in a commitment to the International Air Transport Association's voluntary '25by2025' campaign. It also announced its business class nomenclature will be changed to reflect gender diversity goals.
Etihad said it has launched a social media campaign "which champions the airline's bid for equality by introducing gender-inclusive language for one of its cabin classes. The Arabic translation of Business Class, Business Man Class, has been changed to more neutral language to include the growing number of women in senior positions travelling premium, Etihad said.
Thirty six per cent of Etihad's managerial staff are women and 50% of Etihad's UAE national staff are female. In 2019, the airline launched an Emiratisation strategy that is focused on developing talent in technical and specialised aviation roles. Earlier this year, Fatima Alhammadi became the first female Emirati to graduate as a fully qualified B1 Aircraft Maintenance Engineer from Etihad's Technical Engineer Development Programme, a training program that began 13 years ago.
Etihad's chief human resources and organisational development officer, Ibrahim Nassir, said: "One of our strengths is the diversity of our world-class pilots. We value all of our pilots equally. Gender is simply not a factor when it comes to remuneration. We also are pleased our pipeline of female pilots, who contribute significantly to both Etihad and our community, is growing rapidly. It is something we will continue to invest in."
Last September IATA launched its voluntary 25by2025 campaign to increase gender diversity in the aviation industry. Its goals are:
* Increase the number of women in senior positions at airlines to a minimum of 25% by 2025
* Increase the number of women in under-represented jobs, including pilots and operations, also to a minimum of 25% by 2025
* Report annually on key diversity metrics
"There is no comprehensive airline industry-wide gender diversity statistical report. But with women representing around 5% of the global pilot population and 3% of CEOs the gender imbalance is clear," said IATA director general and CEO, Alexandre de Juniac, when he launched the campaign.