North Asia offers unlimited potential for ATR's SKOL 42-600s
Singapore's February airshow, where attendance was dented by the COVID-19 outbreak, was short on order announcements, with European turboprop manufacturer, ATR, an exception to the rule. Read More »
ATR chief executive, Stefano Bortoli, told Orient Aviation it was business as usual with orders announced for three STOL (Short Take-off and Landing) versions of its ATR 42-600 from Papua New Guinea carrier, PNG Air.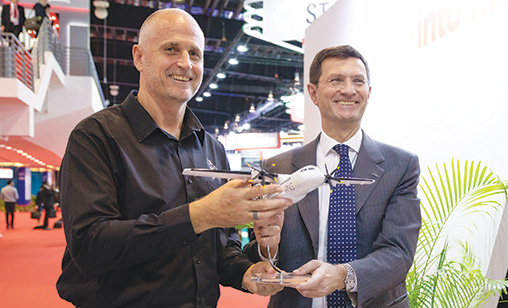 'Worldwide, regional aviation operates from 10%-12% to 25% of the global airline fleet. In China that percentage is 2%-3%. This is a tremendous opportunity for us and others to provide smaller airplanes to operate on second and third tier routes'
Stefano Bortoli
ATR CEO
Also, Singapore-based lessor, Avation PLC, converted two purchase rights into firm orders for two ATR 72-600s. They will be leased to the biggest private airline in Bangladesh, US-Bangla. After deliveries of the two airplanes, US-Bangla will have eight of the type in its fleet.
Bortoli told Orient Aviation on the sidelines of the show the STOL aircraft were perfect for the Asia-Pacific where plenty of airports have runways that are short and/or have difficult approaches.
"The ATR 42-600 can land and take off in 800 metres with 40 passengers. This means it delivers the performance needed as well as providing a viable economic solution for airlines," he said.
ATR has forecast demand for 3,000 turboprops worldwide in the next two decades, with up to 40% of them destined for the Asia-Pacific. With regional air traffic expected to grow 4.5% a year, a significant proportion of this growth will come from route creation, with 30% of the traffic growth coming from routes that do not currently exist. ATR aircraft are proven route openers, with the -600 series averaging more than 100 new routes a year.
China could provide a major breakthrough for ATR's business. The OEM is working with Chinese regulators to validate the type certificate of the 42-600 model, Bortoli said. Close to 500 airports across the world have runways ranging from 800 to 1,000 metres that could welcome the ATR 42-600s. Nearly a third of these runways are in Asia-Pacific, including China, he said.
Bortoli also sees significant sales potential for ATRs in Japan. "So far we have sold 12 aircraft in Japan, but there is an opportunity for up to 100 aircraft. Japanese aviation has been enhancing regional connectivity on one end and on the other hand old turboprops have to be replaced," he said.
"Again, only ATR is there and it is a good fit. There are a dozen airports where only a STOL aircraft can perform. When we launched the 42 STOL we had in mind, amongst others, the needs of the Japanese community."
Commenting on congestion at major Asian hubs, Bortoli said ATR is lobbying regional authorities in countries such as Thailand and Vietnam to focus more attention on improving second and third tier airports and their infrastructure.
"Opening up existing military airports to regional commercial aircraft would definitely be a successful strategy. We are supporting a number of newcomers to market as well as existing airlines to rethink the way they are operating," he said.
"They have grown bigger and moved into international, forgetting about domestic transportation. We think a mixed model, with regional connectivity, is essential for countries that want to gradually develop their communities."
Last year, ATR introduced a military-grade option on its -600. The ClearVision™ Enhanced Vision System (EVS) uses an external camera to display an augmented outside view in real-time to a head-mounted visor worn by the pilot.
EVS significantly improves a pilot's vision, allowing planes to see and land even in fog conditions. ATR said it will enhance flight safety and significantly improve on-time performance but eliminate many flight cancellations caused by poor visibility.