Pilot training and flight simulator company, CAE, forecasts digital technologies to be more prevalent in the sector as aviation adapts to a landscape changed by the coronavirus pandemic. Read More »
Figures from the International Air Transport Association (IATA) showed airlines in the Asia-Pacific suffered a 87% drop in demand in April when the impact of international border closures and restriction of movement rules in a host of countries were at their most severe.
While there has been some improvement since then, it has mostly been in domestic markets, with travel between countries almost exclusively limited to repatriation flights returning passengers to their place of residence or transporting essential workers to their destinations.
As a result, thousands of cockpit and cabin crew and other staff working across the aviation supply chain either have been stood down or made redundant.
CAE CEO, Marc Parent, said COVID-19 had presented the company's staff and customers with "very significant challenges" from lower demand and disruptions to global operations.
But the global pandemic also had introduced improvements in the way CAE serves its customers despite operational hurdles such as the temporary closure of some CAE training centres and manufacturing sites and the omnipotent impact of travel restrictions.
Parent said during CAE's recent first quarter results presentation the average utilisation rate of its training network reached a low of 20% in the three months to last June 30 with half of all facilities either closed for a period of time or running reduced operations.
The average utilisation rate across the quarter was 33% and had continued to improve, reaching "upwards of 40%", as facilities were reopened and flight crews resumed some of their critical training activities.
"We've been adapting quickly to new realities by introducing virtual service offerings to support our customers as a response to border restrictions, including remote support for the installation, acceptance and qualification of the simulators," Parent said.
"Recently, we obtained Federal Aviation Administration (FAA) and other civil aviation authority approvals for virtual training at certain of our flight training organisations and we have developed remote instructor operating station solutions for live instructor interactions during training sessions."
LACK OF DEMAND
A lack of demand has led to airlines operating just a fraction of their regular schedules. Cathay Pacific Group said last month it was flying 8% of normal capacity in August compared with pre-pandemic levels. Singapore Airlines (SIA) said it was at about 6% in July and was planned to reach about 8% by October.
Countries with domestic markets have gradually increased flying as restrictions eased, but the re-emergence of COVID-19 cases has crimped planned growth.
Qantas said recently it was at 20% of normal domestic capacity, far below the 40% level the carrier had previously planned to achieve as local border closures prevented travel between certain states across the country.
Boeing's 2019 Pilot and Technician Outlook had projected the Asia-Pacific would require 266,000 new civil aviation pilots, alongside 266,000 more maintenance technicians and 327,000 new cabin crew, to meet demand in the next two decades. Demand would come from fleet growth, retirement and attrition, it said. The 2020 edition has not been released.
IATA has forecast passenger demand will not return to pre-pandemic levels until 2024, which leaves a lot of aircraft potentially sitting on the ground, or withdrawn, in the period ahead. The Asia-Pacific was expected to accept 300 jet aircraft deliveries (236 narrow-bodies and 64 wide-bodies) in calendar 2020, down 41% from 506 (355 single aisle planes and 151 twin aisles) in 2019.
With the global fleets shrinking rather than not growing, the prospects for pilots, at least in the short-term, appear bleak at a time of oversupply.
In June, Qantas said 220 pilots were expected to be made redundant "mostly" due to the retirement of the 747-400 fleet, with some 2,900 pilots to be stood down "from July 2020 onward". The Australian carrier has shelved plans to open a second pilot training facility, describing the project as on hold.
Other airlines that have publicly disclosed a reduction in their pilot corps include British Airways, Emirates Airline and Tigerair Australia, which has been shut in a restructuring by the new owner of parent, Virgin Australia.
However, this period of oversupply was expected to be short, according to aviation consultant and pilot, Kit Darby, given the prospect a substantial number of pilots who have reached 65 years of age will be retiring in the period ahead, along with a significant number of cockpit crew choosing to take early retirement.
"Pilot hiring will recover to 70%-80% of previous levels in one year or less, with a two to three-year recovery, back to the previous levels and beyond," Darby wrote in an analysis of the state of the industry and its projected recovery published on the ATP Flight School website.
"Full market recovery will be driven by future annual pilot retirements, averaging 4,100 new pilots per year. Note that this demand alone outnumbers the capabilities of the flight training industry. The pilot shortage remains. The return to normal growth will require twice as many new pilots, " Darby predicted.
Notwithstanding significant near-term challenges, the two largest original equipment manufacturers, Airbus and Boeing, said recently they believed the fundamentals that have underpinned the growth in air travel over past decades remained intact.
Airbus CEO, Guillaume Faury, said at the company's quarterly results presentation at the end of July that aviation "is and remains a long-term business". "It's not a question of if, but only when it will recover," Faury said."When we look at the long-term perspective, when COVID is behind us, we see very, very strong market demand and in some cases, even bigger because there has been this one, two, three, four, five years of growth that we observed pre-COVID-19."
Boeing CEO, David Calhoun, said during the Chicago-headquartered company's quarterly earnings presentation its commercial services business would take years to recover.
"Unfortunately, the prolonged impact of COVID-19, the further reductions in our production rate and lower demand for commercial services means we will have to further assess the size of our workforce and ensure we're aligning with the smaller market," Calhoun said.
"More hard decisions are likely ahead of us as we try to limit the impact on our people as much as we possibly can."
NEW SKILLS
Figures from Boeing indicate that of the approximately 2,500 aircraft with 20 plus years of service that were flying pre-COVID-19, some 1,000 had been retired. Industry analysis has shown narrow-body aircraft have been the first to return to service. This trend was tipped to continue in the period ahead, with long-haul travel the last sector to recover.
This means pilots certified to fly twin aisle aircraft, typically used for long-haul routes, face the prospect of either being on the sidelines for the longest time or heading back into training for narrow-body services.
It is this change that could also stimulate demand for pilot training, particularly the use of simulators necessary to complete testing and certification processes.
CAE's Parent said the company expected to deliver between 35 and 40 simulators in the 12 months to March 31, 2021, with the bulk of them scheduled to reach customers in the second half of its fiscal year, a reduction from 56 deliveries in the corresponding months in 2019. The company delivered two full flight simulators (FFS) in the first quarter, to June 30, 2020.
Demand for civil full flight simulators was closely linked to new aircraft deliveries. The total market for simulators was expected to be substantially smaller this fiscal year, Parent said.
"We expect to maintain our leading share of the available full flight simulator sales. We have the benefit of a large backlog of customer funded full flight simulator orders and the risk of cancellation remains low. We expect to substantially deliver this backlog over the next couple of years," he said.
Canada-headquartered CAE has launched a number of programs and products in response to the changed operating conditions, including a digital community platform, CAE Airside, that provided training and career resources to pilots grounded by the pandemic.
"The platform features articles and tools that were created on the subjects that matter the most to thousands of pilots surveyed around the world during this pandemic," CAE said in its first quarter financial results. It also has introduced instructor-led online courses for aviation maintenance training.
CAE chief financial officer, Sonya Branco, said the company was expected to book restructuring expenses of about C$100 million (US$76 million) in the next 12 months as it brought in changes to its operations related to the "optimisation of our footprint" and paid out staff made redundant because of the expected lower level of demand for some products and services.
"These measures include the introduction and acceleration of new digitally enhanced processes, such as remote installations and certifications and work from home practice," Branco said.
"Actions will include the consolidation of some of our facilities where overlap currently exists, so we gain the efficiencies of operating from larger centers. We will be relocating several training assets to optimise utilisation."
CAE's civil aviation training solutions business posted an operating loss of C$97.9 million for the three months to June 30 this year, falling into the red from an operating profit of C$98.6 million 12 months ago. Revenue fell 48%, to C$248 million, CAE said.
"The decrease in revenue from the first quarter of fiscal 2020 was due to lower utilisation across our network, lower revenue recognised from simulator sales due to lower deliveries and decreased demand for our crew sourcing business," CAE explained in its first quarter accounts.
During the quarter, the total backlog by value fell 15% to C$4.54 billion.
CAE has about 10,000 staff working at 160 sites in 35 countries across its civil aviation, defence and security subsidiaries and healthcare businesses. It reported a statutory net loss of C$110 million for the quarter, compared with a net profit of C$63 million in the prior corresponding period.
Parent said: "The world is obviously going virtual. Digitisation, maybe just exaggerating for effect, we have increased 10-fold.
"So, the investments that we make here, the processes, leverage and digital, is going to have substantial impact on how we deploy, train in the classroom, specifically, how we deliver simulators as well."
"With the benefit of some perspective over last five months, the positive news is we believe the worst of the pandemic impact on CAE may now indeed be behind us," Parent said.
"However, the pace of recovery is unlikely to be linear or quick. It will more certainly be dictated by the progression of the pandemic and the rate at which travel restrictions and quarantines can safely be lifted and economic activity improved."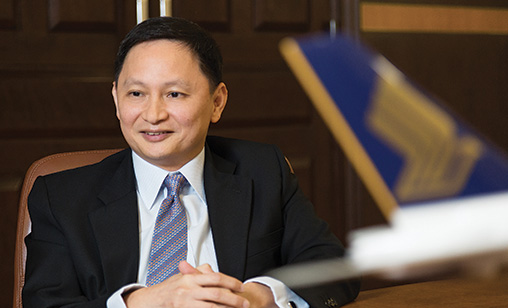 SIA group boss, Goh Choon Phong
Singapore Airlines Group to train local hospital teams


Singapore Airlines (SIA) said last month it would conduct a customer service training course for a local hospital, lending its expertise in training to other sectors of the economy.
SIA teams will train staff for Khoo Teck Puat Hospital's new patient care officer program. The courses are scheduled to start in September, SIA said in a statement in August.
The Singapore airline group said it also was working on other areas of cooperation with the hospital. "This includes the application of SIA's crew resource management practices – a wide range of skills that are used to enhance flight safety and reduce human error – to the hospital's operations," SIA said.
Beyond the collaboration with Khoo Teck Puat Hospital, SIA is exploring other training opportunities in areas such as customer experience and service excellence, human factors and resource management, digital transformation, airline operations and crisis management.
"Our proven instructional methods and active learner engagement, supported by qualified in-house developers and trainers, have successfully equipped more than 12,000 of our front-line employees with competencies in customer service and communication as well as teamwork and collaboration," SIA said. "This helps to drive service excellence throughout the customer journey, both on the ground and in the air," an airline statement said.
"In line with Singapore's push towards training and up-skilling, SIA can use our experience and expertise to support other companies and organisations. This can be done with speaking engagements, courses, workshops and programmes tailored to their requirements. This is an opportunity for SIA to diversify its non-airline revenue streams and allows us to deploy some our staff to these training roles."